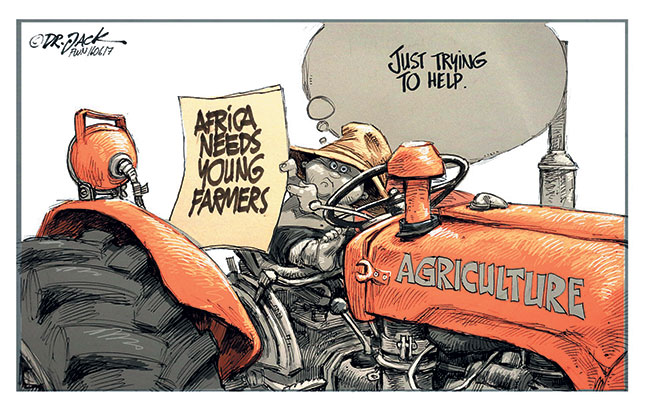 I believe this book should be compulsory reading, not just for young farmers, but for anyone in farming or interested in farming.
Since we will be celebrating Youth Day in South Africa this week, I thought this would be a good time to dedicate my weekly column to the young farmers in this country and also write a letter to them.
READ The benefits of choosing a career in agri – Nono Sekhoto
Of course, I do not have the wisdom and experience of working the land, as many of those authors who contributed to the book do, but I'd like to tell you about the admiration I have for you, the young people who, despite myriad challenges and numerous reasons not to, still choose to take a chance on farming.
I have visited many of you on your farms, big ones and small ones, on land that has belonged to your family for many generations or on a small parcel of land you are only able to rent for now.
READ Career focus: Animal Health Technician
For some of you, the struggle to get to that point where you can finally call yourself a farmer has been much harder than for others, but as all of you will know, the hard work only really begins when you get on to the farm.
I know your days aren't easy and your nights are often restless as you lie waiting for the rain to start… or to stop.
Or, as you worry about an animal that has fallen ill, prices that remain stubbornly low even though harvests aren't great, where the money is going to come from to fix or replace a broken tractor, and the safety of your family.
You might have wondered a thousand times whether you made the right decision giving your life to farming, but from where I am standing, the answer is always yes.
READ Training the future guardians of our natural environment
Among many of my peers who live in cities and spend their lives working never-ending hours in offices I see, just below the surface, the simmering frustration of modern life.
I have never met a young farmer who suffered from this, despite the crushing hardships, failures and disappointments that are part of their lives.
In fact, those I have been fortunate enough to meet all possess a bottomless energy and enthusiasm for the task at hand.
Spending time among farmers has never failed to improve my mood and I always return to the office with new fervour for my own job.
SEE ALSO:
To all the young farmers in South Africa, thank you for swimming against the current and choosing a job that will require you to sweat, to forgo the security of a guaranteed income, to make do without the comforts that a job in the city could offer.
Thank you for taking on the responsibility of feeding a nation, even at a time when many of the country's citizens show disdain for the work you do.
More than any other profession in the world, farmers will be most responsible for the future of our planet.
And when I look at the young farmers in South Africa, I am almost certain that future is in good, capable hands.