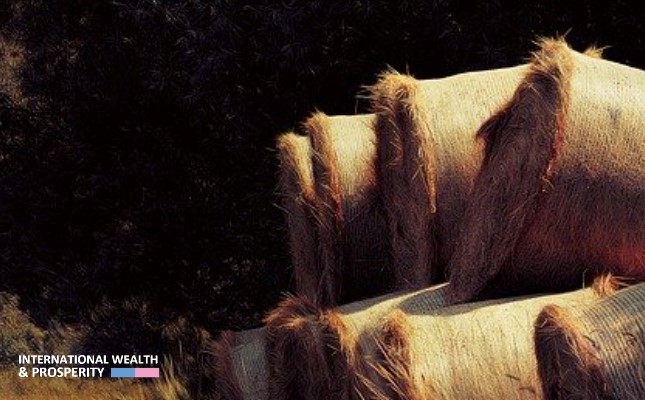 No-one likes to be the one to say 'I told you so' 10 years after the fact. But the accompanying graph shows the S&P 500 index shooting up nearly three-fold, gaining 264% over the past 10 years, while the JSE Top 40 index (in US dollars) struggled to gain just 4.7%.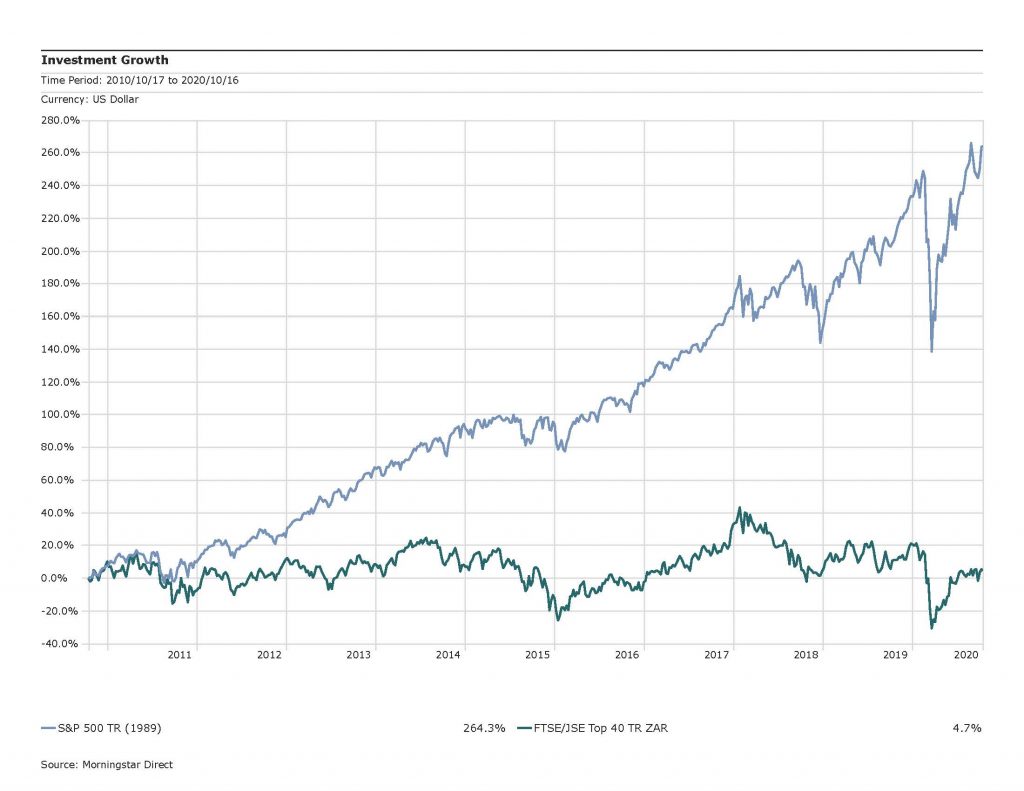 While I won't be so bold as to say the next 10 years will be a repeat of this pattern, I wouldn't discount it either.
The lesson is clear: those who are betting on a rosy future for South Africa are likely to be disappointed.
If you are betting on this country's future, consider that you're betting on a miraculous conversion in the ruling party to the virtues of free enterprise and a light-touch policy.
This is unlikely to happen. After 25 years in power, the ruling party has shown no real willingness to embrace the harsh reality that it is business that makes the economy function, not a meddling bureaucracy.
Scandals
Just look at the scandals erupting around COVID-19 contracts (this is small change compared with the monstrous debt levels that lie in our near future).
The Bank of America expects South Africa's debt-to-GDP to sail past 100% by 2024 from the 62% at the start of 2020. That will impact all South Africans in the form of higher taxes and inflation.
Then there is prescribed assets, which could lock more of your savings into government-backed projects and state-owned companies, with the possibility that the returns will not even keep pace with inflation.
Non-profit organisation Open Secrets estimates that state capture has cost the economy R5 trillion and five million jobs.
Make no mistake; South Africa is a great country with some of the sharpest and most enterprising people in the world. But to live comfortably in this country you need to protect and grow your wealth.
As the graph shows, investing in South Africa may turn out to be a risky and unrewarding option. Your JSE investments in US dollars are unable to even keep pace with inflation, let alone make you money. It's a toss-up between investing in the JSE and holding cash in the bank.
Protect yourself
To protect and grow your wealth, you need to invest in offshore markets to gain access to the likes of companies such as Microsoft, Amazon, Apple and the universe of global stocks that are not available on the local market.
Consider that Amazon's share price is up an astonishing 61% since the start of lockdown in March 2020. Microsoft is up 57%. Apple's share price has more than doubled.
These extraordinary gains have been denied South Africans pinning their hopes on a JSE with a tiny pool of 400-odd stocks, accounting for less than 2% of the world market.
I've been advocating an aggressive offshore investment approach using low-cost passive index funds for the best part of a decade.
And the graph above illustrates the wisdom of this advice. Many South Africans have demurred about taking a more aggressive offshore position, believing that the country would eventually come right.
While I certainly hope this is true, I am not prepared to bet on it. The World Bank forecasts an economic contraction for South Africa of more than 7% this year as a result of the pandemic, while others expect it could even contract 10%.
Compare this with the agility of the Chinese economy, as large as it is, which grew 3,2% in the second quarter after a 6,8% decline in the first quarter.
China is experiencing a V-shaped recovery by doing all in its power to get the country back to work, by keeping businesses afloat, and providing whatever assistance is needed to minimise harm to the economy as a result of the pandemic.
Leaving your savings in South Africa exposes you to all sorts of risks: that the rand will remain relatively strong (I don't anticipate that it will); that the JSE will rebound on the back of a strong economic recovery (there are too many structural problems for this to be anything but a flash in the pan); that the fiscal cliff facing the country will be masterfully navigated by the Department of Finance (this is doubtful); and that the thieves who stole the state capture jewels will be successfully prosecuted for their crimes and made to pay back the money stolen from South Africa.
My view today is the same as it was 10 years ago: move as much funds offshore as you are legally allowed to if you want to protect and grow your wealth by investing in high-quality, income-producing assets in hard currencies.
Those South Africans who have achieved wealth have done so in precisely this manner. Don't wait another 10 years to learn this lesson.
Phone Pierre Cloete on 083 601 1380, or email him at [email protected].