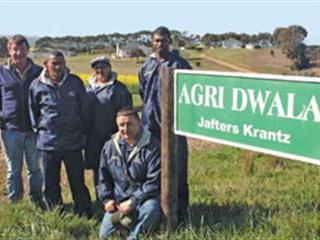 More than 90% of agricultural land reform projects funded by the government have failed to achieve any meaningful success, by the minister of rural development and land reform, Gugile Nkwinti's own admission – a dire statistic and proof that the state is in desperate need of a new approach. Meanwhile, born out of his desire to give back to his community, Kosie van Zyl of Napier, started the Agri Dwala BEE farming project. It has succeeded where most others have failed.
It started with minimal assistance from government in 2006, and the Agri Dwala BEE farming project has gone from strength to strength, winning the ultimate honour of being named South Africa's Top New Entrant into Commercial Farming in 2011. The success of the project has inspired the land reform department to form a strategic partnership with this empowerment venture. The government approached Agri Dwala on the matter and are in negotiations. If the deal goes through, Agri Dwala will be used as an example of how land reform should be done. Its members will act as mentors to other new farmers.
How they got started
When Farmer's Weekly visited Agri Dwala in 2010, before it was named the Best Emerging Farming Project in South Africa, Kosie explained how he and a close friend, Piet Blom, started Agri Dwala in 2006 when the Cape Agulhas Municipality made 645ha of commonage land available for rent to new farmers. "In 1994, I started working as a farm manager on Fairfield farm, where members of my family have been working since 1927. But a year later the owners of a neighboring farm, who have no children of their own and wanted to retire, gave me the opportunity to buy the farm from them over time.
"During the first year I did not have to pay them a cent for the farm, and after that I used farm profits to gradually buy the farm," says Kosie. By 2005 he was well established and in a position to start expanding his business, but he decided instead that it was time to start giving something back. He then approached Piet, who used to work for Sensako, but now works for United Agri Products/Nulandis doing consultancy work for farmers in the area.
Piet wasted no time getting on-board with the idea. He has always been driven to empower people in the local community, so he jumped at the opportunity to invest his time, money and expertise in Agri Dwala. "We approached people in our local community of Napier, who showed a desire to farm. People who were already raising one or two head of cattle on small pieces of land, and we gave them the opportunity to become part of Agri Dwala," recalls Kosie.
One of Agri Dwala's newest ventures is a guesthouse on Karsrivier farm. Margaret Gabriels (left) is the manager of the guesthouse, assisted by Margaret Engel (centre) and Martie Abrahams (right).
They identified six households in the community and, together with Kosie, Piet and nine farm workers, formed Agri Dwala, planting their first wheat on the commonage land, with the help of financing they received from Overberg Agri. Since then they have gradually expanded the business by reinvesting profits and they were able to buy Jafters Krantz (264ha) with funds they received from the land reform department and Karsrivier (316ha), which they bought after securing financing from a local branch of Pioneer Foods.
They are also leasing the 645ha commonage land from the government and a further 270ha from a commercial farmer. Since Farmer's Weekly visited them last they have improved the genetics of their cattle, increased the number of livestock, switched to a more sustainable grazing and crop rotation cycle and they have further diversified their business through an on-farm guesthouse. They will aslo officially open a function venue to the public in September.
How they made it work
"The biggest problem in South Africa is the perception that if you have agricultural land, you have wealth and you are rich. But that isn't true, the truth is that you need to produce enough food, of high quality, on that land to make some money," Kosie exclaims. By following sound business principles and producing good quality crops and livestock, Agri Dwala has been successful.
But Kosie warns that even a good business plan will not work if those involved are only seeking to enrich themselves. "As a mentor or commercial farmer who wants to empower workers, your intentions have to be sincere. You should have a genuine desire to help the people in your community who are less fortunate. If your heart is not in the right place, you will not succeed," he says.
Whereas Agri Dwala used to farm mainly with Dormer sheep it is now breeding with Dohne Merino rams to achieve better wool characteristics in the flock.
"You should not ask, 'what can I get out of this?' but rather, 'what can I put in?''' "I believe it is the principles on which we built Agri Dwala that have made this project a success. They include sharing, not just your resources, but also your time and knowledge. You also need to love and respect each other and be honest with one another. "The work you do and what you produce must be of a high standard, everything must get done on time. Most importantly, you must enjoy what you are doing."
They are also investing a lot of time and resources in training the shareholders and those employed by Argi Dwala.
"Knowledge achieved through proper training and mentorship is one of the most crucial elements of true empowerment. This week I took two of our shareholders, Gavin Jaars and John Davids, who manage our livestock component, to a Dohne Merino auction where they had to sit among all the other commercial farmers from the district and bid on rams.
"It sounds simple, but there is no way to explain how empowering it is for them to finally feel on equal footing with white commercial farmers. This is something that they would never have imagined or dreamed of when they were growing up. "But it is important that when they get to the auction they know enough about sheep to select the best rams for their flock and they must also know how much they should expect to pay for a ram. That is where training and mentorship comes in," says Kosie.
Improving farming operations
Goodwill aside, Agri Dwala's success is defined by its commercial prosperity. It has paid out a dividend to all beneficiaries every year since the business started, made possible by farming well and earning a profit. "We used to implement a 10-year rotation cycle consisting of five years lucerne (for grazing and feed production), followed by five years of cash crops. The grain cycle included two years of cash crops, followed by one year of oats (for grazing) and then cash crops again for two years.
"But we are now converting to a short rotation cycle for the areas where we keep the cattle and a 12-year cycle for the areas where the sheep graze," Kosie explains. Their aim is to achieve greater integration between their livestock and crop components in order to minimise risk by ultimately having the business consist of 50% cash crops and 50% livestock.
The short rotation cycle (two-year cycle) is based on a grazing crop and cash crop system with a strong focus on growing crops for grazing. They plant wheat, barley and oats or wheat, barley and lupins or wheat, barley and canola, and alternate between planting crops for grazing one year and cash crops the next year.For the grazing component they are slowly replacing lucerne by sowing oats mixed with bitter lupins.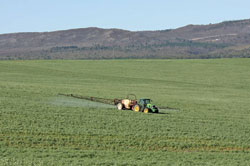 According to Kosie they employ a number of sustainable farming practices, such as minimum tillage and, after harvesting crops, leave straw as a mulch on the soil.
"The livestock graze on the oats, but not on the lupins; they stay in the soil and fix nitrogen. In this way we feed our cattle while feeding the soil," says Kosie. This system is designed for the cattle. For the sheep they manage certain portions of the farm in a longer rotation cycle where they plant lucerne for six years, followed by cash crops for six years.fter starting with only Agri Dwala went from 25 head of cattle on 643ha of leased land in 2006, to 1 540ha with 150 cattle and 580 sheep.
The next step
"We have to, over time, figure out how to reduce the number of beneficiaries. For the business to be sustainable we will need to farm on about 5 000ha instead of 1 500ha and it is just not feasible at the moment to acquire that amount of land. Hulle boer nou met so 150 beeste en 580 skape.
"We have to come up with a strategy to accommodate the next generation by making them part of the business and at the same time figure out how to fairly compensate the older generation that is looking at retiring," says Kosie. But he seems confident that they will find a solution to this challenge in the same way that they have found their path to success up until now.
Contact Kosie van Zyl on 082 873 3281 or email [email protected]