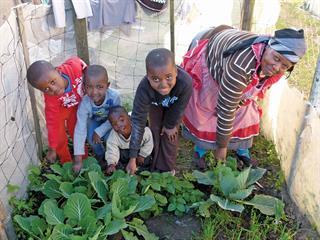 "Imifino is a real gift from God," says Nophandla Chibi as she deftly cuts the leaves off a plant known to her as utyuthu and to botanists as Amaranthus hybridus. "It is so tasty and healthy for my family. And it grows everywhere."
Imifino is an isiXhosa/isiZulu collective noun describing most green leafy vegetables, but Nophandla specifically refers to those that grow wild as weeds along pavements and other tracts of land across the country. These traditional vegetables are harvested and boiled before being eaten, usually as an accompaniment to maize porridge.
Like many women who feed a family on a small income, Nophandla includes imifino, gathered around the informal settlement where she lives, as a regular part of her family's diet. She stresses that it should not be viewed as a substitute for cultivated vegetables, but could supply nutritional benefit.
Negative perception
Nophandla acquired her knowledge of the different species by accompanying her grandmother, Margaret, as a young girl to gather imifino in the rural Mooiplaas area near East London. However, she feels knowledge about imifino should not only be transferred orally from one generation to the next, but should be incorporated into the formal educational syllabus.
"My grandmother would tell me to always keep watching where I walk because there are many valuable plants everywhere," she recalls. "I am teaching my granddaughter, Ahluma, but many people who are hungry don't know about imifino. If they taught about it in school, then all the people of South Africa will know how they can find food that is very healthy and nobody will need to go hungry."
Imifino is a traditional Xhosa dish of lightly boiled African leafy vegetables, frequently accompanied
by maize meal porridge.
Hunger and malnutrition
With such readily available nutrition growing almost everywhere in South Africa, hunger and malnutrition is very disconcerting for Nophandla. "While many people like the taste of imifino and grew up eating it, only a few women from the Nompumulelo informal settlement regularly collect and cook it. Xhosa men traditionally viewed it as 'women's food' that would make them weak, but that perception is now outdated and today men regularly eat it."
She attributes the under-utilisation of imifino to an erosion of traditional knowledge and the youth distancing itself from all things traditional. "The young people that come from the farms know about imifino but they don't want it," she explains. "They want to eat 'town food' and forget what they learned about the old way of doing things. Some are just too lazy to look for imifino."
The declining popularity of traditional foods among urbanised youth coupled with the free availability of cultivated vegetables has exacerbated another perception Nophandla feels is important to dispel. "As it can be found everywhere, many people who don't have money for food look for it to eat," she says. "So some people think it is only food for people with no money. But imifino such as utyuthu tastes even better than spinach and is very good for you." Knowing the nutritional benefits of imifino, she serves it to her family, a daughter and two grandchildren, at least twice a week. "The benefits of this are clear," she says.
Packed with nutrients
Scientific data back Nophandla's confidence in the nutritional benefits of imifino. A multi- disciplinary study by André Oelofse and Wim van Averbeke for the Water Research Commission (WRC) and Department of Agriculture Forestry and Fisheries (DAFF) in 2012, established that eating imifino could make an important contribution to alleviating micronutrient malnutrition. It could also help prevent diseases such as certain types of cancer and HIV, because of the cell protective effects of a relatively high antioxidant content.
At least two of the species Nophandla regularly cooks for her family are extremely rich in micronutrients. A 90g portion of cooked utyuthu (Amaranthus hybridus) provides about 89% of the recommended daily allowance (RDA) of Vitamin A required by a child between the ages of four and eight years. The same size portion of umsobo (black nightshade Solanum nigrum) provides 48% of the RDA for iron and is considered a good source of non-heme iron.
Nophandla learned how to find and cook the many different types of imifino from her grandmother 20 years ago.
It has been estimated that eradicating iron, iodine and vitamin A deficiencies could result in a population-wide increase in IQ of 10 to 15 points, a one third reduction in the number of stillbirths, and a one third decrease in infant and child mortality.
Vitamin A and iron deficiencies also have negative consequences for child growth and development, and it is estimated that approximately one quarter of worldwide child mortality is associated with vitamin A deficiency alone. The relative ease with which micronutrient-rich imifino appears to grow in most South African environments highlights the great potential for addressing malnutrition and improving the wellbeing of the population.
Food source for the future
Fortunately, this potential has not gone unnoticed in the agricultural research community. Oelofse and Averbeke's study also addressed plant nutrient intake, water requirements, drought and heat tolerance, germination, and disease management in cultivation. The study concluded that imifino was generally more drought and heat tolerant than Swiss chard (the control crop) and required between 240mm and 463mm of water in a full growing season.
It is therefore highly suitable for cultivation, particularly in home gardens using local resources, where it could assist in addressing malnutrition and food insecurity at household level. Following this research, the Agricultural Research Council (ARC) is studying improved cultivation methods, planting methodology, possible allopathic effects in intercropping, optimum spacing between plants and harvesting methods.

Better cultivation
DAFF has published production guidelines for black nightshade, and along with WRC and ARC is evaluating which imifino varieties would be most suitable for cultivation. Essentially, research is geared towards developing improved cultivation methods, promotion, marketing and commercialisation of African leafy vegetables in South Africa, and is aimed at publishing guidelines and manuals for subsistence and commercial production.
However, for Nophandla, the plants' resilience to adverse conditions and ability to thrive in almost any environment has influenced her decision not to cultivate these vegetables in her garden at home. "I grow spinach, turnips, green peppers, beans and radish in my garden," she says.
"Why must I grow imifino in my garden when I can pick it everywhere I walk?"
Source: André Oelofse and Wim van Averbeke, "Nutritional Value and Water Use of African Leafy Vegetables for Improved Livelihoods".

Phone the Water Research Commission on 012 330 0340 or visit www.wrc.org.za.
Common types of imifino
Utyuthu
Also called imbuya, unomdlomboya or rough pigweed, Amaranthus hybridus probably originated in the tropical areas of North America but now occurs as a common weed in Africa. It is a very popular variety of imifino in the Eastern Cape. A fast grower, it reaches a height of between 30cm to 100cm. The seeds are also rich in carbohydrate and protein and the leaves are often used as a spinach substitute. An infusion made from the leaves is used in the Philippines to treat chest complaints.
Ihlaba
Also called xabexabe, the common sow thistle (Sonchus oleraceus) is native to Eurasia and North Africa, but has been found in South Africa for more than a century. Tea made from the leaves is said to be beneficial to cancer patients and to treat stomach and liver problems. It grows up to 80cm high and can be found on farmland and vacant stands. Early Cape settlers applied it to wounds and ulcers to speed up healing. In Tanzania the root is eaten to treat roundworm. It is also a favourite among poultry, rabbits and cattle but can be toxic to lambs and horses.
Umsobo
Common or black nightshade (Solanum nigrum, S. retroflexum and S. scabrum) is sometimes called umsobosobo or umaguqa. Although its origins are unknown, it grows throughout Africa. Reaching up to 1m in height, it is easily recognised by its round, dark purple berries with a slightly sweet taste but rich in iron and Vitamin A. The ripe berries can be eaten raw or made into jam. Unripe berries are more bitter and sometimes used by the Xhosa people to treat ringworm. An infusion of the leaves is occasionally prepared to treat diarrhoea in children.
Imbikicane
Also called isijabane or goosefoot (Chenopodium album), this cosmopolitan weed occurs readily in vacant fields and gardens. The leaves and young shoots are cooked as imifino and are rich in protein, selenium, calcium, vitamin C and vitamin A. The seeds are sometimes ground into flour to make bread or porridge. Nophandla recommends that imbikicane be eaten to purify the blood and aid digestion. A low level of saponin in the plant is toxic to fish and traditional hunters have been known to add large quantities to streams or lakes to paralyse fish when fishing.
Umhlabangula
More commonly known as black-jack (Bidens pilosa), umhlabangula originated in South America and was introduced to South Africa about 100 years ago. The leaves taste somewhat bitter and are harvested from young plants as imifino. Umhlabangula is often used to treat ailments such as stomach complaints, diarrhoea, rheumatism and inflammation. Plants are ready for harvesting at four to six weeks at a height of between 15cm and 30cm, which is half their adult height.