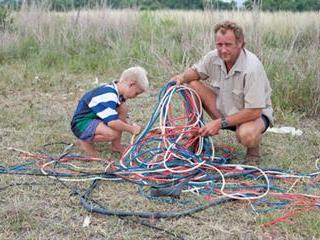 When a rural crime is committed in South Africa, it's seldom indeed that the police are not blamed. Yet the situation on the ground is more complex than it appears, and fingers are sometimes pointed in other directions too. Swartruggens in North West is a farming district dotted with mines. It has experienced an increase in crime, but it's also the location of several highly successful farm security initiatives.
A week before Farmer's Weekly travelled there, Daleen and Johan Cronje had been attacked by five robbers in their farmhouse.
Interestingly, local criticism of the attack was not reserved for the police, but for neighbouring farmers, who failed to act on obvious signs that something was wrong, such as the fact that the suspects were seen driving away from the farm in the Cronje's vehicle.
"We have a growing problem with weekend farmers – rich professionals from Rustenburg who are seldom on their farms and don't contribute their time to local security initiatives,' said Hanna van der Walt, chairperson of the Vlaklaagte Farm Watch. It's a lament heard countrywide. Farmers have come to rely on farm watch groups rather than on the police, and weekender farmers break up this unity.
National rural safety strategy
At the heart of the problem. lies a lack of trust in the police – a challenge that was meant to be addressed by the National Rural Safety Strategy. Launched in July 2011, this comprehensive programme was presented and discussed at police stations throughout the country.
According to some, it is the key to effective crime-fighting. To others, it has proved to be little more than words on paper. Agri-Gauteng's André Botha, who liaised with the SA Police Service on behalf of Agri SA to develop the strategy, explained the situation further.
"The police are hauled over the coals whenever something goes wrong, but the rural security strategy creates a structure for recourse which I do not believe farmers are taking advantage of. If a farmer has a problem with service, he can speak to the station commander, and failing that, to the cluster commander, and failing that, to the provincial commissioners, who even gave out their cellphone numbers as a show of faith after the launch of the strategy in July last year."
Negative, positive
After the recent murder of farmer David Hall from Buffelshoek in North West, local DA MP Juanita Terblanche heaped abuse on the police for failing at rural sector policing. In Swartruggens, however, the outlook was more positive. While Daleen Cronje, her face still badly bruised, was recounting how she and her husband had been tied up and beaten with a knife handle, Hanna took a call from the police and returned with a smile – she had just heard that the suspects had been arrested in Rustenburg, and the bulk of stolen goods recovered.
This, she said, was the result of a joint effort between Vlaklaagte farm watch and the police. "Deputy Provincial Commissioner Simon Mpembe called to assure me he'd put his best people on this case and he didn't disappoint," she said, adding that Vlaklaagte's relationship with the police was generally "very good".
"If there's an incident, we call and they come. And if they don't come, we call higher up the food chain, and they come." In many respects, Vlaklaagte farm watch embodies the rural safety strategy which enjoins community members "to rely on their own protection as well as support from neighbours and other members within the rural sector to ensure immediate response in times of trouble, awaiting the deployment of the police station". Moreover, the arrest of the suspects suggested integration between police and farm watch groups.
Cynicism
But Vlaklaagte farm watch members didn't swallow this. 'The local police are mostly ineffective – very quick to come to the farm, give you a case number and leave, but then you hear nothing more," said farm watch member and local farmer Ian Levey. "I've reported six cases of theft in three years, none of which have been solved." Citrus farmer JC Grobler said the farm watch had developed relationships with capable officers only to see them move out of the area within three years.
Another farmer, Wilhelm Rocher, whose father was murdered in 1992 and who is described by fellow farmers as "our Sherlock Holmes", explained, "When a crime occurs, the farmer must be a policeman, securing the scene. Then when the police finally arrive he must hold their hand, and ensure they don't mess up the scene. Then if you want a conviction you have to become an investigating officer and liaise with the courts to ensure that the prosecutor has all he needs."
Hostility
The Vlaklaagte farm watch at least has a working relationship with the police. In other parts of Swartruggens, where local farm watch groups are not as cohesive or don't exist, farmer/police relations border on the hostile. Koenie Boshoff, whose father was murdered on the family farm in January, said that some farmers in his area had resorted to getting workers to call the Swartruggens police station claiming to have been attacked by farmers, to be sure of a prompt reaction.
"Then we get them in an hour and in numbers," he said. In spite of these criticisms, the attitude towards farmers at Swartruggens police station turned out to be surprisingly positive. "We need to protect the farmers, who are such an important part of the economy. We are dedicating a lot of energy to this now," said Captain Ernest Mopapi.
While the cynical might point out that borrowing the rhetoric of the rural safety strategy and actually implementing it are two different things, Hanna reports that "the younger officers have started calling us older farmers oom and tannie, which is a nice touch". Brigadier Sam Dube, the Rustenburg station commander, was equanimous in the face of farmers' criticisms.
"We are designing several rural safety plans in the district, and are giving special consideration to farmer security. This is a complicated task because not all areas are equally organised, and some are not co-operative. "There will always be groups and individuals who are against us but we are open to their criticisms – anything that improves our service must be taken into consideration," he said.
Limpopo
Louis Trichardt and its surrounding farming areas boast highly effective community security organisations, formed years before the birth of the rural safety strategy. While according to some observers, the level of policing has declined, police and farmers recognise that they are bound to each other.
There is, however, one outstanding issue between farmers and police. From 2003, at the recommendation of the SAPS Priority Committee for Rural Safety, farm watch groups formed by the Transvaal Agricultural Union (TAU) used a flashing green light on night patrols.
After an incident in 2008 in which a Louis Trichardt town watch member stopped a provincial leader for running a four-way stop, the police found a basis for outlawing the use of the green light in the National Traffic Act. Now only emergency service providers may use the green light, and its loss is an emotive issue.
"If your purpose is crime prevention, then a flashing light is indispensable," explains Doors le Roux, chairman of the North TAU security committee. There's no faulting Doors's logic, although it is understandable why the police might baulk at allowing farm watch groups to patrol public roads with flashing lights.
Working within the communication channels opened up by the rural safety strategy, the North TAU security committee raised the issue of the green light ban at station and cluster level, as well as with the provincial commissioner. It had a sympathetic hearing – and in November 2011, Commissioner William Mpembe undertook to raise the issue with both the ministers of agriculture and transport, and report back within two weeks. However, nothing has been heard from him since.
A solution to the impasse ultimately rests with the minister of transport, and it's easy to see that if the police were to effect the change in law through their own lobbying, relations between farmers and police would be strengthened, in the spirit of the rural safety strategy. After three years of effort, however, farmers are not holding their breath.
Natal Lowlands
When Farmer's Weekly visited the Colenso district in 2010 to speak to Nigel Ralfe about the murder of his wife Lynette, the security situation in the region was problematic. Farmers were organised in small, isolated pockets, if at all, and relations with the local police, who many farmers believed were corrupt, were poor.
Two years later, things are looking up, and some of the credit for this belongs to former Durban policeman- turned-community safety specialist Brian Jones. "I came up to the Natal Lowlands to help with the Ralfe investigation and began pulling dockets of murdered farmers," said Brian, who discovered several surprising facts. A total of 17 white farmers and 54 farm workers had been murdered over 10 years.
And yet, entirely unreported by the media, convictions had been secured for all 17 of the farmers' murders. His research on the farm workers' murders is still ongoing. Brian, who owns the SA Community Action Network, a 911-style organisation that co-ordinates police, security and emergency services in Hillcrest, Durban, moved inland to Ladysmith and launched the SA CAN Rural Safety Initiative pilot project, which aims to establish a working model for consolidated rural security by 2015.
"We don't have all the answers but we're on the right track," said Brian. "For example, we discovered that farmers' organisations did not have a shared security strategy. When the Ralfe suspects fled, they crossed the territories of three farmers' organisations but there was no way of co-ordinating the manhunt."
He also discovered that Netcare had never airlifted a single farm attack victim to hospital, for want of landing sites and GPS co-ordinates, and that farmer groups had no relations with the Road Traffic Inspectorate (RTI). "The RTI controls the major arteries between farms, and once the farmers began co-operating with them, the RTI became their biggest asset in the fight against stock theft, because these thieves act over large areas," he said.
According to Tim Ralfe, chairman of the Estcourt Farmers' Association, farmers have begun to patrol with police, which has helped to reduce stock theft. "Even if you believe the not-insignificant evidence that some officers are involved in stock theft, patrolling with them makes sense because if a corrupt officer is with you, he's not out stealing, or sharing information with thieves. Or if he does share information, it'll be to tell them that the ante has been raised," said Tim.
Out of touch
Communication problems remain, however. Whereas farmers' organisations in the northerly provinces have maintained the Marnet radio system used by the disbanded commandos, the network has largely collapsed in the Natal Lowlands. "Few farmers are connected by radio and police stations no longer have radio, and so there's no immediate connection," explained Brian.
Financially stretched farmers must now be convinced to buy digital equipment. This, says Brian, is the only way a global radio network will be resurrected. His final point – echoed countrywide – is the fact that the media needs to report not only farm attacks themselves and the political and cultural alarms sounded afterwards, but the subsequent police work.
"The only way we're ever going to move forward is through dialogue and co-operation, and I think this is starting to happen, certainly in the Natal Lowlands," concludes Brian.
Contact: Hanna van der Walt, chairperson of the Vlaklaagte Farm Watch on 083 275 3278.
Doors le Roux, chairman of North TAU Security Committee on 082 898 5773.
Brian Jones, owner, South African Community Action Network (SA CAN) on 082 884 8024.