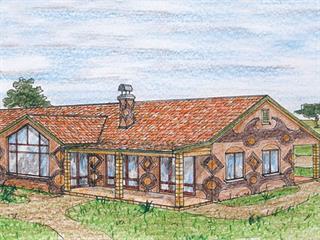 Dear Jonno
I am a keen follower of your exciting designs published in the Farmer's Weekly. I need your help. I would like to put up a two-bedroom cottage on a 10ha plot. The main bedroom should have an en suite bathroom with a toilet and shower.  There should be a separate bathroom with a toilet, shower and tub, a sitting room with a partition for a small office, a kitchen/dining room, and an entertaining area flowing from the sitting room.
Regards, Joe
Dear Joe
Thanks for the brief on the accommodation required for your new home. You did not give an indication of the preferred styling or materials to be used, so I've kept the structure simple and practical. I've also introduced some ethnic character to the external appearance.
I admire the many designs found on traditional African homes, and think this should become the 'rubber stamp' on other South African homes. Other countries have formulated their own particular styling, so why not us?
Here is one of my decorative renditions, but each ethnic group should formulate its own style. Come on ladies; your woven baskets and fruit dishes are one of a kind – tell your husband to stand back while you decorate the home! Shown here is a rural township home where a simple decorative design has transformed what might have been an unattractive concrete house. The cost is minimal. Let's go 'Trad-Mod-African'.
Regards, Jonno
This article was originally published in the 4 July 2014 issue of Farmer's Weekly.