As always, the Nedbank Eston Show boasted an impressive array of farm machinery and tractors. The following caught our eye:
1. Massey Ferguson: bigger is now better
In the past, Massey Ferguson tractors sold in this area were generally smaller than the big MF 7614 seen here. However, the market is changing; the quest for greater productivity has seen units from the upper end of the range becoming increasingly popular. The 7614 has an AGCO Power 6,6-litre diesel engine rated at 96kW with torque of 645Nm at 1 500r/min. It is the smallest tractor in the six-cylinder 7600 range.
2. At the other end of the scale
"Straightforward, dependable and affordable, the 27kW MF35 is truly the 'People's Tractor'," said Richard Markwell, MF vice-president and managing director (Europe/Africa/Middle East) at the launch of this tractor. "It brings mechanisation to a new generation of farmers, and is the ideal multi-purpose machine, particularly for first-time tractor owners and operators who want to develop their businesses."
3. New cane loader
The manufacturers of the Hin-Tech HT cane loader claim excellent productivity for this enhanced design; a longer boom provides higher reach and can compress the load in the trailer. Maximum lifting height is 6m.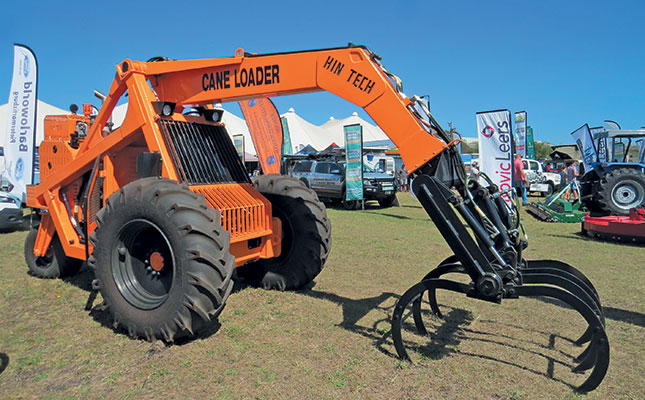 The unit is powered by a 57kW Deutz F4L914 engine via an Eaton hydraulic servo control transmission. The sugar cane grab has a capacity of 0,36m3 and the frame-integrated cabin has a four-point safety harness, guarded window and foot bay.
4. All in a row
Mascor had a line-up of John Deere tractors on display, each with specific characteristics. In the foreground is the budget-priced JD 5503, with a 2,9-litre three-cylinder engine rated at 55kW. The tractor is claimed to have excellent pulling power yet remarkable fuel economy. In the middle is the 61kW JD 5082E, an excellent general-purpose tractor, also with wet clutch and power reverser.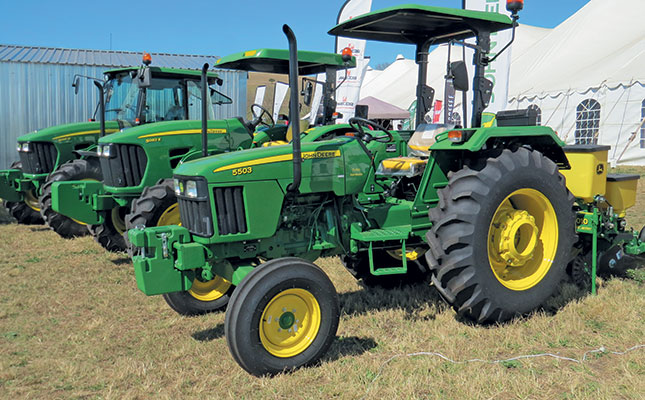 Furthest from the camera is the 70kW John Deere 5095M. The semi-chassis design has an extremely strong rear axle, wet clutch, power reverser and synchro gears in the range used for transport and fast fieldwork operations.
5. Locally manufactured grader
The SAFmech THP300 seen here has a 3m-wide 500mm-deep blade with 200mm x 20mm double-sided Bennox bevelled cutting edges. It has an overall length of 4,85m and requires a 55kW tractor. Hydraulic tilt and lift is controlled from the operator's seat on the grader. SAFmech implements are manufactured at Merrivale in the KwaZulu-Natal Midlands.
6. Compact tractor loader backhoe
The Terramite T9 compact TLB is powered by a turbocharged Kubota diesel engine rated at 24,6kW. The backhoe has a 180° swing and can dig up to 3,05m deep. The front loader can lift 1 000kg to a height of 2,6m and the dual hydraulic cylinder curl system provides a breakout force of 2 750kg. A quick-attach bucket system enables implement changes to be made in minutes. The 4WD option is a full-time all-hydraulic system. An optional four-in-one bucket enables the loader to scrape, load, carry and grab.
7. Fully extended
Well established in the construction industry, the JCB Telehandler is now regarded as indispensable for large-scale agricultural operations. The JCB 535-95 Loadall seen here is powered by a 55kW JCB Ecomax engine and can lift 3 500kg to a height of 9,5m.
8. Made in SA for Africa
Two years ago, First Automotive Works (FAW), one of China's largest automotive companies, opened a production facility outside Port Elizabeth. This assembles trucks locally, marketing them under the slogan 'Made in South Africa for Africa'. The FAW 8.140 seen here is powered by a 3,8-litre Cummins four-cylinder turbocharged and intercooled diesel engine rated at 105kW through a six-speed ZF 6S500 synchro gearbox. Recommended body length is 5,1m (maximum 5,5m) and the body and payload allowance is 6 019kg, giving a 5t payload, depending on the type of body.
9. Easy ridging
GC Tillage manufactures the Contourer series of disc ridgers locally. Seen here is the TCL 16 with 16 discs; these are 660mm in diameter, 6mm thick and spaced at 270mm. Working width is 5,8m. Total weight is 2 000kg and the TCL 16 requires a 75kW tractor. The range includes 16-, 18-, 20- and 22-disc models with a working width of up to 7,6m.
Joe Spencer is the mechanisation editor of Farmer's Weekly.
COMMENT ON THIS STORY