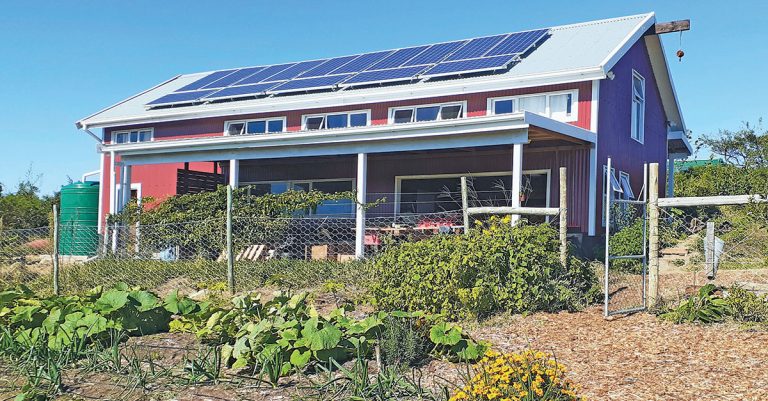 When Roger and I lived in Zithulele and Cebe, I worked as a physiotherapist in the public health sector, and Roger, a graphic designer, worked in the NGO sector doing development work," recalls Karen Galloway.
Karen and her husband Roger own Heartwood Homestead near East London, where they practise regenerative agriculture. But it was while working in Zithulele and Cebe that the couple witnessed the challenges faced by rural people, many of whom work on 2ha allotments to supplement their income.
"In that sense, Heartwood Homestead is our experiment in self-sustained and off-grid living," explains Karen.
Heartwood is a 20ha property, with 4ha of arable land, which overlooks the Gonubie River. When the Galloways bought it in 2019, there was no infrastructure, and Roger managed the construction of their house, the guest house and the workshop.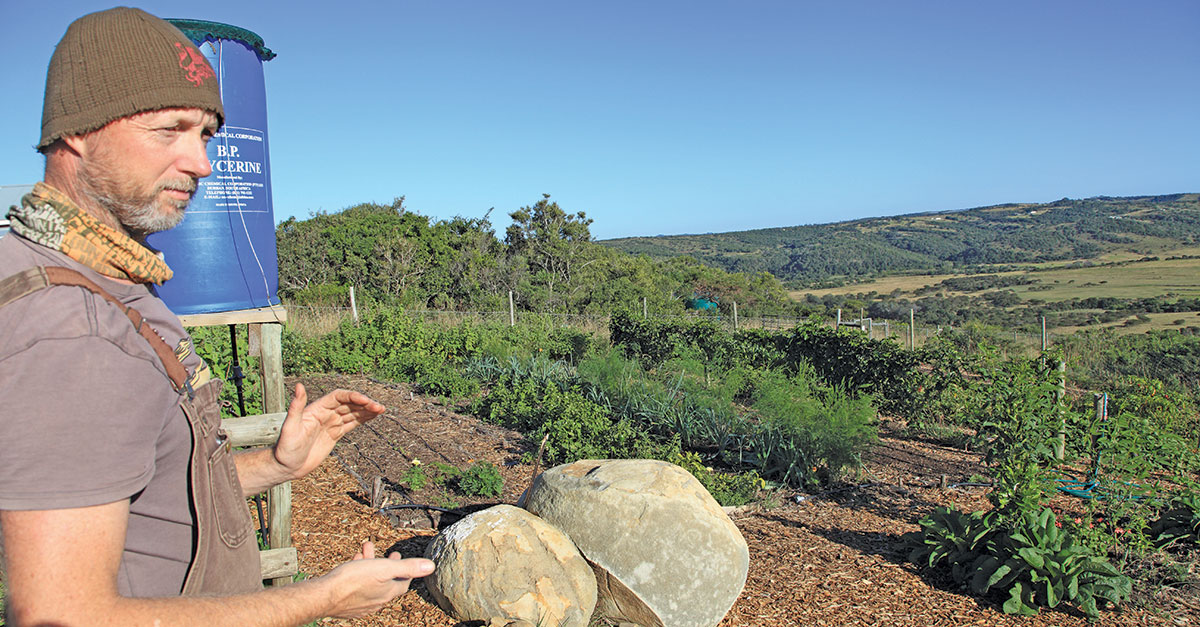 "I enjoy carpentry. It's one of those things that started as an interest, then it became a hobby, and now it's a business," says Roger.
Off-grid living
The farm is completely off-grid for water, electricity, and sewerage. The Galloways store up to 80 000m³ of rainwater and use solar power.
When it came to deciding on a power source, the couple carried out a cost comparison.
"On the one hand, there was Eskom, which charges an exorbitant connection fee and monthly line rentals, with the possibility of load-shedding. On the other hand, a family member installs solar-power systems, and they offered us a good deal, so we opted for that," says Roger.
They installed a 5kW inverter with 15 solar panels. Electricity is stored in lithium-ion batteries with a total capacity of 20kWh.
"We currently use only about 30% of what we generate, and that includes electricity for all the power tools in the workshop, the guest house and the main house," says Roger.
He constructed dry compost toilets in all the buildings, and the system works well and with minimal maintenance. They use sawdust from the carpentry workshop and occasionally the ash from wood fires.
"We're reliant on stored rainwater for all our needs, so flush toilets don't make sense in our situation. But it goes further than that; we really believe it's a better [option] for everyone, no matter their access to water. We're compost toilet system evangelists! It closes the nutrient cycle, you don't use any water, you never need a plumber, and there's no splashing or unpleasant odours," says Roger.
Ultra-high-density grazing
Karen manages the farm's livestock component. "My physiotherapy training has given me a good understanding of anatomy and basic health issues affecting the animals," she says.
"We have two Jersey/Beefmaster cows that provide enough milk for our family of five, the two interns, and a full-time employee. The cows also add value as an attraction to the guest house, as we offer an Airbnb experience teaching people to hand-milk them," says Karen.
The Galloways manage their pastures through ultra-high-density strip grazing in 8m x 45m camps, which are moved daily. This allows the pastures a 90-day recovery period. Karen says this grazing strategy should allow them to keep up to three times more animals on the hectarage at their disposal, but the system is not yet optimised.
"With only two cows, the vegetation isn't grazed intensively enough, so we need more animals," she says, adding that last year was particularly dry.
"We were on the verge of having to feed the animals, so we're taking baby steps as we move along.
"We've tried strip grazing with our pigs, but they were too destructive, so now we have a large area with one wallow for our sow and piglets."
They sell their bull calves as veal at two-and-a-half months, when they are still easy to handle and transport. Karen plans to use a Nguni bull for future breeding to produce smaller-framed animals that are hardier and easier to manage.
"I'm part of a WhatsApp grazing group, where we exchange ideas and knowledge. However, most of it is geared towards large commercial operations, so the challenge is to take that information and adapt it to our micro-farming business. Things like artificial insemination and vaccinations are geared towards large herds, so it becomes very expensive to have service providers come out for two cows," notes Karen.
Along with the two cows, she keeps five sheep, as well as one-year-old Roxy, an Anatolian Sheepdog, which is currently in training as a livestock guardian dog. She is kept in a separate camp when unsupervised.
"We were warned that she could still fool around and possibly harm the other animals until she reaches the age of two. She's very sweet, but not a pet," explains Karen.
Deep litter system
There are two chicken flocks on the farm that supply them with eggs and meat. One flock shelters in a mobile unit called a chickshaw, and these birds help control ticks, spread manure and feed on fly larvae as they move with the cows and sheep.
"We had to predator-proof the mobile unit with an additional layer of mesh wiring on the floor. We also created safe spaces for the chicks to hide and feed in when the flock is inside the unit in the mornings, before they exit for 'work'," says Karen.
Chicken manure drops from the chickshaw onto the fields as fertiliser, she says.
The other chicken flock consists of layer hens in a deep litter system, with rabbits suspended above them in cages. The chickens also have access to a trapdoor, so they can come and go at will. Commercially fertilised eggs are bought in to be hatched by the hens.
"We tried buying in point-of-lay hens, but their survival rate was very low. True free-ranging hens seem to need a mother to teach them how to keep safe from eagles and mongooses.
"I hope Roxy will help to protect the chickens as she grows into her guardian role," says Karen.
Roger heads up the fruit, vegetable and compost components of the farm. The hen/rabbit system comprises a 20m² structure, and houses about 40 layer hens and eight breeding rabbits, which hang over the hens and compost floor in comfortable cages. The floor is covered with a 600mm layer of mixed organic matter that is turned once a week.
"We move the top layer to the side after eight weeks, and remove the compost at the bottom. The rabbit droppings and urine, in combination with chicken manure, work very well for the compost. At the same time the chickens provide us with eggs, managed with a clean, roll-away system," says Roger.
Once weaned, the rabbits are placed in rabbit 'tractors' (movable pens) on the vegetable beds. Like the chickshaws, the tractors have mesh floors, allowing the rabbits to feed while fertilising the soil. The tractors are moved every second day.
An integrated system
Roger is establishing a 'food forest' and two food gardens with plants ranging from ground cover to permanent fruit trees. The entire farm is loosely planned and laid out on permaculture principles.
"I love this system and exploring how things are connected. I'm always looking at ways to improve," says Roger. As an example, he is currently planting plenty of pomegranates, pawpaws and granadillas: his family love to eat them, and they help to supplement animal feed.
The market garden, which Roger established in June 2020, uses Hügelkultur, which entails creating a base of wooden material such as logs and sticks, onto which topsoil is layered.
As the wood decomposes, carbon and beneficial microbes are released into the soil, feeding it over time. It is also no-till and chemical-free.
Roger says wind is a big problem, as it tends to blow soil cover away. "We're managing the wind with edible windbreaks such as granadilla vines and sugar cane, and mulching with heavier organic matter, like maize stalks."
Self-sufficiency
According to Roger, they are close to achieving their goal of being self-sufficient in food.
"The fruit still needs to come online, but meat, dairy and vegetables are almost all catered for."
Karen adds that each component of the farm is a microbusiness, but overall, they are almost breaking even. To fill the gap, she does part-time physiotherapy work, and Roger does graphic design work and carpentry.
"All the farming activities add to the experience we offer our guest house visitors," Roger adds.
The Galloways are also hosting a student internship programme as a contribution to their community.
"Cebo Ndlazi and Bathandwa Sigudu are our first interns, and we're learning a lot from one another as we go along," says Karen.
The internship, which is faith-based, runs for nine months and focuses on practical farming skills.
"Our country has complex problems, but we want to be part of the solution. We want people to come to Heartwood, see what we're doing here, and either share their ideas on how we could improve or use our efforts to inspire their own projects," she says.
Roger's advice to anyone interested in off- grid living is to start small. "If you live in a flat or small townhouse, start by growing something edible in a pot or your backyard. Research, experiment, and grow from there."
Email Roger Galloway at [email protected]. Visit heartwoodhomestead.co.za.