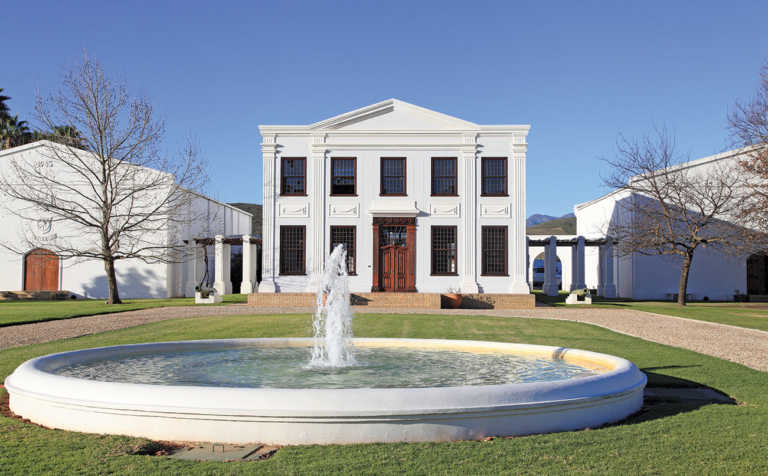 Being the son of legendary winemaker Danie de Wet could easily have been intimidating, but Johann de Wet sees it as a privilege and a way to create a legacy for his children.
After all, Danie, owner of De Wetshof Wine Estate in the Robertson Wine Valley, is one
of the pioneers responsible for bringing improved plant material into South Africa in the late 1970s, as well as a former KWV chairperson.
"People assume it's hard to follow in the footsteps of somebody as inspirational as
my father, but to me he's just my dad," says Johann, 35.
"The great thing about being his son is that I grew up in an environment where I was
constantly exposed to industry news and politics, which has left me well-connected with many influential and knowledgeable industry players."
Johann and his brother Peter, 33, knew from a young age that they would one day take
over the family business.
"We never really wanted to do anything else. I accepted that Peter would one day make the wine and I'd sell it. We make a surprisingly good team: he's greatvat looking after the nitty gritty, like the books and finances, whereas I'm more of a visionary."
Before joining De Wetshof in 2005, Johann had a stint at Stellenbosch University, where
he realised that academic life was not for him. After that, he worked on a horse farm in the
US and wine farms in Europe.
"Don't get me wrong, tertiary education has its place. But farming has become so
specialised that one person cannot know everything needed to unlock the full potential of a
farm. Not having formal training also helps me think out of the box.
"We consult specialists to identify blind spots and help keep us on the right track," he says.
Know your strengths
To Johann, the secret of farming lies in knowing what one is good at and running with it: "Our strength lies in Chardonnay production, which represents about 75% of the 200ha we have under vines."
Despite this, consumer shifts can lead to adjustments in the way produce is prepared or
marketed. An example of this is the global trend towards lighterbodied wines with lower alcohol levels.
But these adaptations should never be made at the expense of wine quality or the estate's personality, Johann stresses.
He sees his job as building the brand established by his father, and moving volume.
"We attend a few select wine shows, because the job is not only to sell wine but maintain networks. International competition is so strong that you have to work constantly on your market and relationships with clients to stay top of mind," he says.
"You need to have a clear story to promote your wine. Some estates have elaborate stories about a dog or a woman who inspired the wine, for example. Our story focuses on the unique conditions on our farm that allow us to produce some of the world's top-quality Chardonnays."
De Wetshof has a number of iconic vineyards that have gained international renown for their excellent quality, such as the 3,51ha vineyard responsible for their famous Bateleur Chardonnay.
This vineyard was planted in July 1986 from a special selection of plant material imported from Burgundy.
"Vines in these vineyards are slowly and strategically replaced over time, so we don't end up having to replace the entire vineyard all at once," Johann explains.
The vines are grown in the traditional vertical manner with a south-east, north-west orientation for optimal light penetration and air movement. This not only has an impact on wine quality but renders the vineyard less vulnerable to fungal diseases.
The vines are planted 1,83m apart, in comparison with the industry's 2,4m average.
"The narrower planting space allows us to produce up to a third more grapes than with a traditional row spacing. However, we sucker the vines vigorously to keep them in balance, which I believe gives them a much longer life expectancy than the average 20 to 25 years," he says.
Experimentation
Johann constantly experiments to ensure that De Wetshof maintains its competitive edge. For example, from 2016 he pruned two segments of vines in the same vineyard every fortnight from November to April to determine the best time to prune Chardonnay.
By harvesting grapes and making wine from each of these segments separately, Johann was able to compare production volumes as well as the ripeness, sugar content and acidity of wines from each batch.
This enabled him to identify the second to third week of August as the best time to prune Chardonnay on their farm.
Hand-pruning is still preferred on De Wetshof as it gives better control over vine growth.
"Our aim is to manipulate growth and enhance air movement and light penetration for optimal berry development. Machines prune the vines into a box shape, causing an overshadowing of plant material and an obstruction in air movement," explains Johann.
The De Wets use the traditional spur pruning method, as well as guyot and double guyot, depending on the vigour of the variety.
The farm obtains samples of all the Chardonnay clones that enter the country and experiments with them.
"You could say we're writing the book on Chardonnay production, but just in our region. What works here won't necessarily give the same results somewhere else," says Johann.
For the past four years, the brothers have selected some of the best-performing clones from vineyards planted in the early 1980s, and have been multiplying these.
Factors selected for include vigour, flower development, berry development, ripening, and chemical composition and quality of wine produced.
The clones will be planted in a new vineyard on the farm later this year and also be made available to the rest of the industry.
"These are my vineyards of the future," Johann says.
In another experiment, he has planted a vineyard where he alternates six clones in each row segment.
"It's still too early to comment but what I want to see is how mixing these clones up affects production, the vineyard's overall performance and wine quality. "Farmers mixed up clones years ago when there was a shortage of plant material and they had to replace dead vines with material they got from their neighbours."
Lucerne & cover crops
If an entire vineyard is removed, the De Wets grow lucerne for four years before planting new vines.
According to Johann, this helps to break disease cycles such as leafroll virus, improves the soil structure thanks to lucerne's large root system, and absorbs soil salts that build up due to water turning saline towards summer's end when the water level in the canal runs low.
The lucerne is either sold or used on the farm as fodder for the horses and cattle.
Cover crops are planted between vineyard rows to reduce soil evaporation levels, keep the soil cool during the warm summer months, improve the soil, and suppress weeds.
Johann is experimenting with various kinds of cover crops, such as brassicas, lupines, triticale and oats, as well as creeping saltbush (Artiplex semibaccata).
"We generally plant two cover crops in alternating rows within the vineyard. When about 50% of the cover crop has gone to seed, the crops are either rolled flat or, in the case of brassicas, ploughed into the soil as green manure," he says.
Improving the image of SA wine
According to Johann, the image of South African wines overseas has improved greatly over the years, but this is not reflected in wine prices.
"We need to get rid of the 'cheap and cheerful' image and break into the premium wine category so that we can be seen as serious wine producers. We've started moving in this direction and the drought will most certainly help, but we shouldn't lose momentum."
He adds that the industry is extremely sensitive to negative politics and publicity.
"Many of the markets are so oversupplied that a mere suggestion of unfair play is enough to make people take you off the shelf. It doesn't matter if your products are much better value for money."
Turning to the local market, Johann warns that wine producers should not absorb price shocks to accommodate consumers.
"Doing this for a couple of years usually backfires, resulting in consumers rather buying other wines, the price of which was increased gradually.
"It doesn't make sense that wine grapes have been sold for R3 000/t for the past 15 to 16 years while the prices for most other commodities have increased exponentially."
Email Johann de Wet at [email protected] or [email protected]