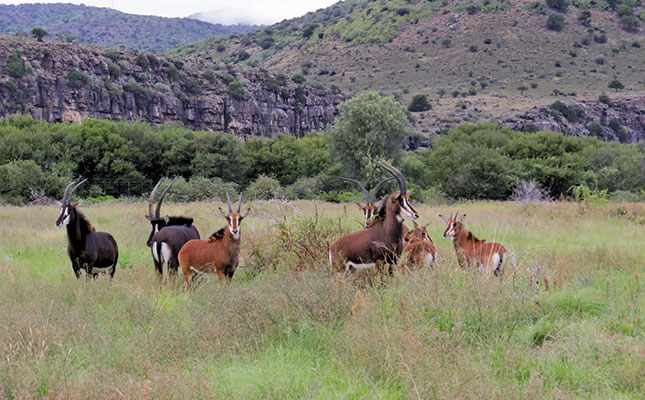 Interest in high-value game species as a primary or subsidiary enterprise has escalated. The recent Karoo Midlands Wildlife (KMW) study group information day on high-value game species attracted no fewer than 170 people.
This arid area is known mainly for wool, mohair and mutton production. In the 1800s, farming was limited to fat-tailed sheep and oxen, while the abundant game was all but wiped out, first by hunters and then by the rinderpest.
READ: From cattle farm to game paradise
By the 1990s, several game ranches, running mainly kudu and springbok, had sprung up among the sheep farms.
Adaptable high-value game species
Other plains game species also did well on the dwarf karoo shrubs, sweet thorn thickets along the water courses and jacket plumb trees and grass in the hills and mountains. Now the lucrative high-value game trade has sparked the interest of the region's livestock farmers.
There is some concern, however, about start-up costs and the risk of the investment bubble bursting. Countrywide, there are 25 000 sable and up to 30 000 disease-free buffalo, making ranchers wonder when the market will become saturated.
"On the other hand," says Rob Hobson, of Swartrivier, Jansenville, a member of the study group, "these animals are very adaptable and do well in the Karoo. And, with the Eastern Cape having only 10% of South Africa's game ranches, there's potential for growth."
He believes that of the three high-value game species, only the sable is a candidate for a price correction at some point.
"Buffalo have already had a price drop, and are unlikely to have another, and the numbers of roan in South Africa are, at about 3 500, too low for an oversupply to develop."
But Rob also sees reasons for a possible increase in the price of sable, his antelope of choice.
"They are hardy, easy to manage and scarce in the Western Cape and Namibia," he points out.
"The downward price correction would have to be severe to make the investment a poor one. With a 50% drop in the price of a sable cow, the original investment would still be a good performer – roan and buffalo even more so, with their lower market risk."
At current prices for a sable breeding group, the return on investment could be as high as 40%, with four to five years needed to recover one's money.
READ: Colour variant game naturally profitable
Future trends would depend on the relative values of males and females. According to Neil Dodds of Nukamma Wildlife, near Jansenville, the price of sable has risen by between
R20 000 and R40 000 since the beginning of the year. Pregnant sable females are now valued at R320 000 to R340 000 while 15-month-old heifers can fetch R280 000. Roan antelope breeding animals fetch R360 000 and more.

From left: Neil Dodds, Rob Hobson and Hennie Barnard
Neil concedes that the start-up capital excludes many from the market.
"So far, the demand has grown not so much from local farmers wanting to buy a few animals but from outside investors," he explains.
"This creates opportunities for landowners, who can form 50:50 partnerships with investors, with the businessman supplying the money and the farmer supplying the fenced property, carrying the feed and vet costs and managing the game. The demand for groups of 10 to 30 breeding females is an indication of this trend."
Learning curve
Neil advises Karoo farmers considering farming high-value game species to do their homework and to contact as many knowledgeable people as possible. The study group learnt much from Hennie Barnard of Skietfontein near Aberdeen, who pioneered sable farming in the Eastern Cape.
"These animals need the same care and old-fashioned stockmanship that any good farmer gives his animals," says Hennie. "The welfare of the game should take priority. Look after the animals and they'll look after you.
"Too many projects have gone wrong because managers lack the experience or ability to identify problems and rectify them in time."
A common mistake, according to him, is to forget that these species are grazers and to feed them too much protein and too little roughage.
Infrastructure
Although fencing is expensive, Neil advises against trying to save on it.
"The department of nature conservation will issue a CAE (certificate for adequate enclosure) on a 1,4m fence for sable and roan, but these antelope can clear that height. Rather build a good 1,8m fence and, if kudu need to be excluded, raise it to 2,4m, even with the cost at about R55 000/km. Determined buffalo are difficult to contain but an electrified 1,4m fence is usually enough."
Once the fences are up, Neil suggests that first-time game farmers buy a few young bulls (of any species), get to know their habits and learn from them.
READ: The wildlife industry rises to the challenge
After a few years, the better animals could be sold as breeding bulls and the balance for hunting.
"The demand for quality breeding bulls is always good and while there are hunters, there will be a need for trophies," he stresses.
For first-time buyers, he recommends sable.
"They are easier to manage and more adaptable to camp size and feed than roan. Buffalo need more infrastructure, including bomas and loading and handling equipment. With sable and roan, a group of four cows and a bull is about the minimum initial requirement. You can sell the calves after year two when they are a year old. Buffalo take a bit longer to show a return. The heifer value increases when they are ready to breed."
In an intensive breeding operation, the inter-calving period (ICP) for sable can be as short as nine to 10 months. The roan ICP is 10 to 11 months and the ICP for buffalo is 13 to 16 months. According to Neil, young pregnant heifers are the best buy, and females should have at least five or six calvings left. Old breeding cows are difficult to manage.
"To form an idea of price ranges, study auction prices and sale ads," he explains. "And form relationships with people in the business – they can give guidance.
"Animals are also available through agents and directly from ranchers."
Investment opportunities: Current prices for 12-month-old bulls
Sable R20 000 to R25 000
Roan R25 000 to R30 000
Buffalo R25 000 to R35 000
Hunting prices after four to six years, depending on horn growth and trophy size
Sable R40 000 to R80 000
Roan R40 000 to R80 000
Buffalo R60 000 to R120 000
Risk reduction
According to Neil, it is good policy not to buy the first animals one sees.
"When you've made a purchase, ensure that the animals delivered are the animals bought," he explains.
"This can be done by being present at capture and being part of the delivery process.
"As a buyer, negotiate the risk, especially the chance of injury, and determine at what stage you want to take it on. Insurance options are available. Weigh up the costs and advantages of cover from capture to 14 days after delivery against cover for the transport period only."
Use a reputable transporter and make sure the trailer is purpose-built for game and has individual compartments for sable and roan. To prevent injuries once the game is on the farm, check that the fences are in good condition. Remove debris such as wire, old tyres, rusted cans and old bones. Risk of predation is low, as the animals are protective of their young, so normal predator control methods should suffice.
Farm type
"In intensive systems, the success of farming high-value game depends largely on management," says Neil.
"Animals must be fed a balanced ration of protein and roughage, with lucerne and teff available ad lib. Although they do well in small paddocks, bigger camps are better. Farmed extensively, these species need access to sufficient grass. Veld analysis and calculation of stocking rate is essential. Supplements can be given to help with nutrition and management and to keep animals habituated to people.
"Irrigated lands are a great advantage, even on a small scale. Oats for winter grazing and a mixture of permanent summer grasses such as buffalo grass (Panicum maximum), blue buffalo grass (Cenchrus ciliaris), and Smuts finger grass (Digitaria eriantha ssp. eriantha) is ideal. Animals might not take to ryegrass or Eragrostis."
Antelope have a lower protein requirement than that of domestic stock. Deciding on supplements needs analysis and expert advice. Game feed, mineral game blocks and supplements are available from the feed companies.
Game Health
Neil warns that in smaller camps it is important to keep the tick burden low.
"Parasites can be controlled by using feed troughs designed to administer trans-dermal paracides, a drop-out dart with an injectable paracide or by mixing a powder with the feed," he explains.
During last year's Rift Valley Fever outbreak, the KMW study group found that the ICP in sable was slightly longer than the normal nine months. There was no visible difference between vaccinated animals and those receiving no treatment.
Phone Hennie Barnard on 049 8470005 or email him at [email protected] Phone Rob Hobson on 049 834 9032 or email him at [email protected],  or phone Neil Dodds on 082 775 2434 or email him at [email protected].
This article was originally published in the 28 June 2013 issue of Farmers Weekly.