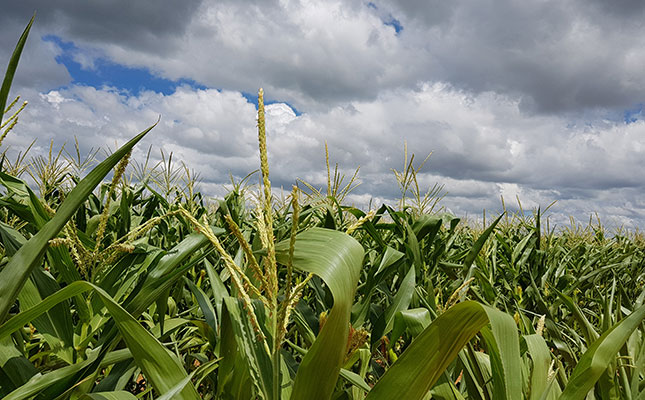 The Crop Estimate's Committee (CEC) has revised the expected commercial maize crop for 2020 up another 1,7% to over 14,8 million tons.
READ Food shortages unlikely during coronavirus outbreak
The CEC released its area estimate and second production forecast for summer crops just prior to the 21-day national lockdown, which began on 27 March, and was aimed at containing the spread of the coronavirus disease (COVID-19).
The area estimate for maize was increased to over 2,6 million hectares, with an expected yield of 5,67t/ha, while the total maize volume was expected to be 31% greater than in 2019.
"The three main maize-producing areas, namely the Free State, Mpumalanga and North West, are expected to produce 83% of the 2020 crop," the CEC said.
The committee estimated that white maize production would amount to about 8,5 million tons, with yellow maize production just below 6,3 million tons.
READ Task team to manage coronavirus crisis for farming
Paul Makube, senior agricultural economist at FNB Agri-Business, said in a statement that "bullish grain supplies" would "help tame food inflation".
Looking at the total grain and oilseed basket, Makube said the CEC estimated that total production would reach 17,07 million tons, which was 1,8% up on its previous forecast.
"The season so far has progressed well and all indications are that we are going to finish the year on a positive note. This is not only a good development from a GDP perspective, [but] this bullish supply outlook will [also] help tame food inflation despite upward pressure from the weaker rand," Makube said.
According to the CEC, the expectation for sunflower production was up nearly 4,6% at over 730 000t, the soya bean production estimate was more than 2% higher at about 1,27 million tons, and groundnut production was over 3% higher at about 56 000t.
The CEC left its dry bean forecast unchanged at just under 73 000t, while the sorghum forecast was revised down nearly 1,7% to around 133 000t.
The CEC was scheduled to release its third production estimate for the 2020 season on 29 April.
Meanwhile, the maize market continued to perform well. Grain SA said in its morning market commentary report on Monday that local maize contracts had "experienced a very exciting day" on Friday (27 March) and had all closed in the green.
The association's data indicated that the spot price of white maize on 27 March was         R3 253/t, and R2 690/t for yellow maize.