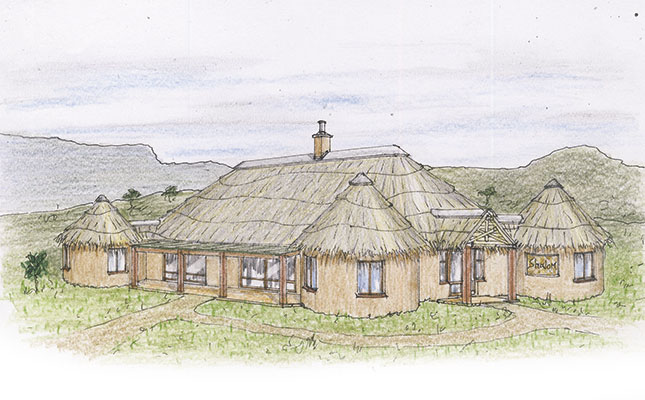 Dear Jonno
My wife and I are missionaries in Zimbabwe working in a remote area called Mberengwa. We are looking for a structure of four rondavels at the corners of a rectangular centre. The construction can be of local brick plastered over, with a thatch roof. If it would save a significant amount of money, the rondavels could be separated from the main room by short hallways with doorways at each end. Two of the rondavels should be bedrooms with full but small bathrooms, a small kitchenette and a private veranda.
There is a vacation place in South Africa called Chapizi, in the far north of the country, that has rondavels for their guests similar to what I am referring to. The third rondavel should be a full kitchen and the last a study/library.
The main building should be large enough for a dining area seating 18, with a family area on the other side of the room. I don't think we need a full wall separating the two sides of the room. In addition to the two bathrooms in the bedroom rondavels, there should be one more for the main house, which should also have a veranda.
Shalom, John

Greetings John
Thanks for the fresh challenge for something out of the ordinary. In the sketch, I've estimated the specific room sizes according to your description. Please feel free to enlarge or reduce them. I have attached the rondhavels directly on the corners, as shown, rather than designing connecting passageways between them and the central area. This makes for an appealing composite building. The roof too has some character thatching.
With plaster and painted walls, I suggest that you mix a pigment and silicone additive into the plaster mix. These will ensure that the plaster and brick walling are protected and there won't be any need to paint. The bathroom and all other fittings can be placed to suit your needs. Give me a call to discuss any other options.
Regards, Jonno