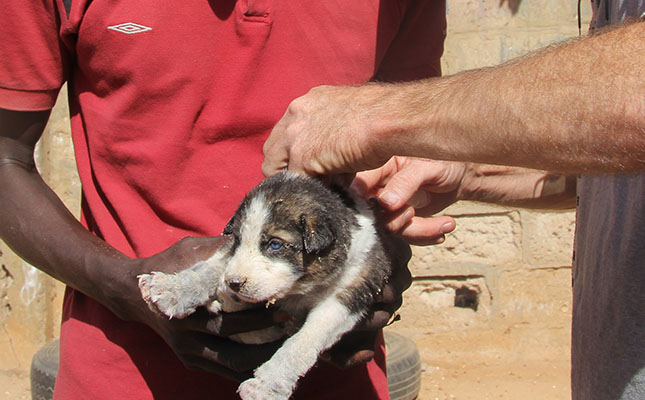 All efforts to control the deadly viral disease of rabies are based on vaccination, hence the theme of this year's annual World Rabies Day: 'Rabies: vaccinate to eliminate". This is according to the Global Alliance for Rabies Control (GARC).
READ Animal health: what German vets can teach us
World Rabies Day, the 13th to be held so far, will be marked on Saturday.
GARC, a non-profit organisation was established more than a decade ago in response to the failure of authorities to eliminate rabies in places such as Africa and Asia.
Its slogan is 'Working to eliminate deaths from canine rabies by 2030', and partners include the Food and Agriculture Organisation of the UN, the World Health Organisation, and the World Organisation for Animal Health.
"Over the past 10 years, GARC has worked with international stakeholders and many other partners to raise awareness about rabies, encourage collaboration, and build the evidence needed to increase political commitment and funding to end rabies in every country," a statement by the organisation said.
READ SA farmers concerned about live cattle exports from Botswana
According to statistics provided by the World Health Organisation's Zero by 30 campaign, which aims to prevent human deaths from dog-transmitted rabies by 2030, the disease kills nearly 60 000 people annually.
Almost all the cases in humans are the result of dog bites, and 40% of cases are children in Africa and Asia.
Rabies is a viral disease that can affect any mammal and is almost always fatal once neurological symptoms present.
READ Rabies can be a danger to your horse
In two recent cases in the Free State, numerous people came into contact with a rapid dog.  The provincial Department of Agriculture and Rural Development said in a statement that rabies had been confirmed in two dogs in Ficksburg in early September.
Chief state veterinarian at the Bloemfontein Provincial Veterinary Laboratory, Dr Didi Claassen, told Farmer's Weekly that 11 people were receiving precautionary post-exposure prophylaxis treatment as a result.
Those affected included the owners of the dogs and veterinary personnel who had worked with the animals.
READ Vaccinate your animals: it'll pay you in the long run
Claassen added that four people had died from rabies in KwaZulu-Natal this year, and people had also died from the disease in Limpopo and the Eastern Cape.
Animal health authorities in the Free State are hosting vaccination campaigns today as part of World Rabies Day, in addition to the regular campaigns hosted throughout the year.
Claassen said that an emergency follow-up campaign would start next week.
Receive Farmer's Weekly's WhatsApp news broadcasts.