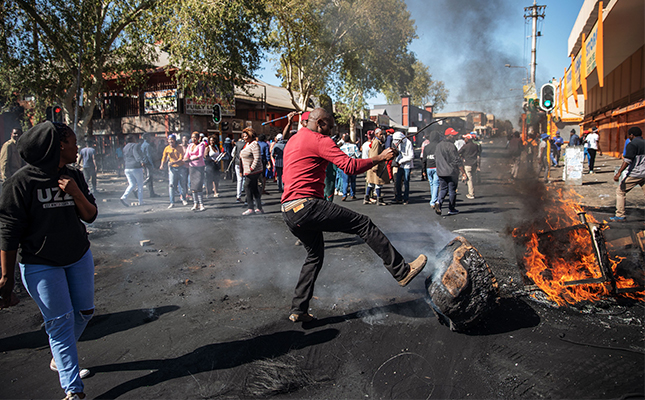 Agri SA and the African Farmers' Association of South Africa (AFASA) have called on government to step up action against escalating violence currently evident across South Africa.
READ Our sorry, calloused souls
This ranged from farm attacks, attacks on truck drivers, xenophobic attacks, and violence against vulnerable groups, such as women and children.
The violence, according to these farmers' associations, was not only detrimental to the country as a whole, but was negatively affecting agricultural production and, in effect, food security and job security, as well as income generation on farms.
READ Women in agri can create jobs, ensure food security
"The attacks could deter investment, which is desperately needed to put South Africa back on a growth path. Safety in rural, as well as urban, areas is a prerequisite for food security, job creation and prosperity," said Tommie Esterhuyse, chairperson of Agri SA's Centre of Excellence for Rural Safety.
Peter Mashala, spokesperson for AFASA, said attacks on truck drivers were having a severely detrimental impact on the supply and delivery side of production.
"Agricultural production is time-sensitive. Not having access to inputs when you need it can result in severe crop losses and even harvest failure. Most produce also need to be delivered as soon as possible, to sustain the shelf life of fresh produce and avoid stress in livestock."
READ Indigenous livestock perfect for small-scale farmers
Mashala said that small-scale farmers, especially, were negatively affected by the transport delays, since most of them did not have a buffer to absorb the negative impact of this violence on their businesses.
"Farm margins are very tight and most of these farmers are already struggling to make ends meet without having to struggle with these challenges also."