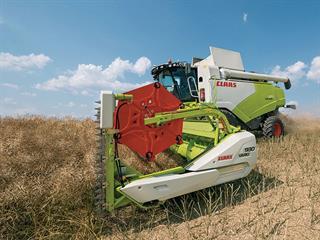 The international agribusiness show SIMA takes place in Paris in February. Prior to the show, the winners of the SIMA Innovation Awards were announced. They included CLAAS, which won a gold medal and a special mention.
Gold medal
This was awarded for the Panoramic cab concept on the Arion 400 tractor. The key feature is that the 2,41m² windscreen is attached to the polycarbonate roof without an upper crossbar, giving the operator an unimpaired 90° field of view over the loader. This allows him to see the load at all times – an important consideration with the increasing size of equipment such as feed mixers. Loaders are required to operate at greater discharge heights than ever.
The improved view also means that the driver can remain sitting in a comfortable position, avoiding repetitive movements that can cause back problems. The judges of the competition found the Panoramic cab to be a remarkable development in terms of safety, comfort and productivity.
Special mention
This award was presented for the new Vario cutter bar (930 and 770 models, with cutting widths of 9,3m and 7,7m respectively) for the Tucano and Lexion combine harvesters. The cutter bar table can be adjusted from the cab over a range of 700mm (from -100mm to +600mm). The rapeseed plates that previously had to be inserted manually are now integrated with the table. In addition, quick-release couplings enable the crop dividers and rapeseed cutting knives to be attached or detached without the use of tools.