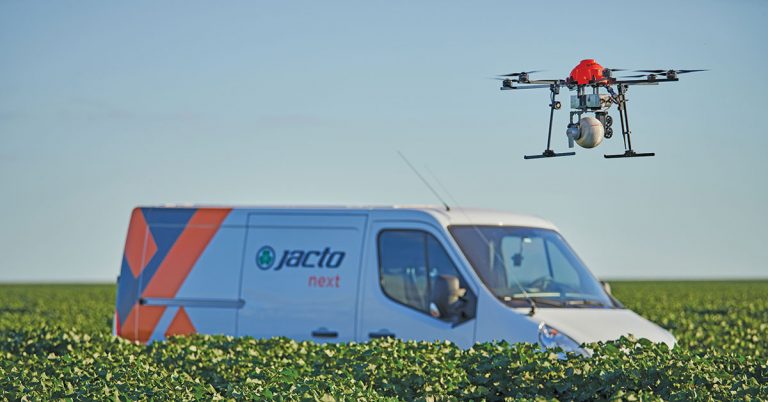 Jacto Next, introduced to the Brazilian market, is a new business division of the company responsible for marketing and delivering specialised services for farms. The new division
works as a provider of integrated services that allows using connectivity and the Internet of Things (IoT) to achieve better results on rural properties.
The objective of Jacto Next is to offer farmers integrated and complete solutions to make Agriculture 4.0 feasible by simplifying the adoption of new technologies, and helping
improve performance, quality and sustainability in their businesses.
"Like Industry 4.0, the Fourth Industrial Revolution in agriculture needs digitalisation in the field for more agility, autonomy, connectivity and integration in production and management processes. In this scenario, we are increasingly requested to offer agricultural properties integrated and complete solutions to make this possible," explains Fernando Gonçalves, Jacto president director.
"With the release of Jacto Next, we reinforce our purpose of serving farmers with products, information and services. Modern agriculture needs new tools that can enable it to reach
its full potential," he adds.
A year ago, Jacto released its Digital Ecosystem in Brazil, which, through the Jacto Connect App, allows the joining of four important participants in the agricultural environment: the farmer, the business ecosystem (resellers, partners and communities inside and outside the property), the information system (platforms, apps, and other integrative solutions) and all 'things' present inside the property (machines, fields, sensors, crops, soil, drones, and weather stations).
Therefore, Jacto Connect was developed with the intent of promoting an integration space for these four elements by offering several Jacto and other market partners' services free of charge or by subscription. Now, with Jacto Next, Jacto takes a leap by offering services for Agriculture 4.0.
Jacto is making available services that allow complete agriculture digitalisation with solutions for Internet signal coverage, instrumentation, multibrand machine connection,
sensors, weather stations, drones, satellite images and software to monitor and manage operations.
The new area also offers subscription service for GPS correction signal. At the same time, other services such as specialised training, special operations with drones and autonomous
vehicles, operational and agronomic consultancy are being developed and will be available soon.
"Jacto Next's mission is to be the expert provider of reliable end-to-end solutions with its own technology and those of partners in an integrated way," says Felippe Antonelle Gonçalves, Jacto Next business manager.
Operational management
One of the highlights of Jacto Connect's current service portfolio is EKOS, Jacto's software that allows integrating solutions to digitalise agriculture and visualise information. EKOS was developed to manage all agricultural operations in cereal, fiber, fruit and sugar cane crops with online multibrand monitoring, operational efficiency improvement and all information at hand for faster and accurate decision making.
The software creates maps, controls service orders, generates efficiency and operational productivity indicators, and supplies reports for detailing jobs on a single screen.
"Through EKOS software, farmers have full and online visibility of the agricultural activities carried out on the farm. They can monitor the progress of the jobs and be notified in case of machine downtime, maximum operating speed and other configurable operational alerts," says Fellipe.
Phone Jacto on 072 598 2790, or visit jacto.com.