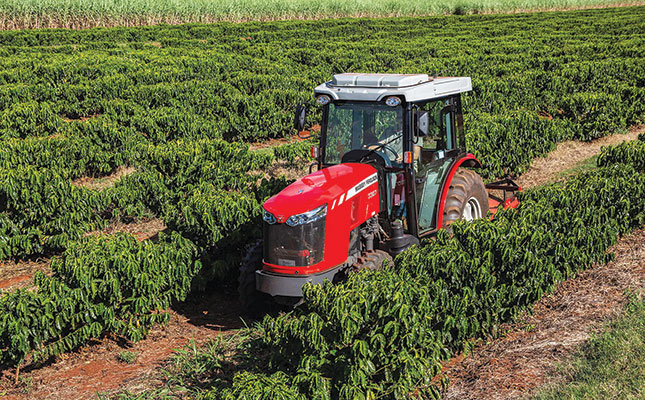 In response to increased interest in producing high-value crops such as avocados and nuts, Massey Ferguson launched its MF 3300 narrow-width tractor for orchard and vineyard production in South Africa in November 2021.
AGCO, the distributor for Massey Ferguson in South Africa, said in a statement that this model was based on the popular robust and reliable MF 400 Xtra Narrow tractor models from Brazil.
While the front axle, transmission and rear linkage are almost identical to those of the MF 435 Xtra and MF 440 Xtra, the MF 3300 features a brand- new AGCO 3,3-litre, three-cylinder engine, as opposed to the traditional third-party-manufactured engine.
"This is a 100% AGCO product, with the added benefit of incorporating the latest AGCO Power engine technology," explains Ryan Clark, product marketing manager of Low-Horsepower Tractors Africa at AGCO.
Clark adds that what makes this tractor noteworthy is that it is Stage 3 emissions-compliant, and features a common rail with an electronic control unit (ECU) to monitor all fuel and air parameters.
The engine memory function allows a preset engine revolution to be engaged, which means more consistent application and less wear-and-tear on the driveline, linkage and implements, at the push of a button.
"There are a lot of benefits associated with ECU technology as opposed to the traditional lever- or cable-operated throttles," says Clark. The ECU is accompanied by a mini dashboard computer, providing readouts of hourly fuel consumption. This ensures greater in-field efficiency.
Features
The MF 3300 series can be bought as an open-station vehicle or with a cab. The latter has been designed for maximum visibility and safety, and offers easy-access controls that are simple to operate. Air-conditioning is standard, and incoming air is passed through a cab air filter.
The new series is also ideal for horticultural applications. "Front track widths can be adjusted from 1,19m to 1,31m and rear track widths can be adjusted between 0,96m and 1,3m, providing overall widths of 1,27m to 1,40m. Overall height is 1,6m on platform versions, and 2,35m on the cab version," the statement said.
The tractors also feature an extra-long wheelbase, heavy-duty chassis and strengthened drawbar. Attachments are powered by an independent power take-off (IPTO), a hydraulic linkage system that can lift 2 100kg, and two hydraulic remote valves offering 59ℓ/ minute oil flow or 210-bar pressure.
"If you were an orange or a pecan nut farmer, this would be the tractor that does everything and goes everywhere on the farm. It's the main breadwinner," says Clark.
Advanced
The extra-long wheelbase also makes the tractor an ideal candidate for advanced farming techniques such as skip passing. When it comes to orchard rows, a tractor traditionally starts at the top left corner and works its way down.
When it reaches the end of a row or headland, it is forced to carry out a three-point or full-lock turn. This results in added strain on the machine and the implement, not to mention the rate of the application, as the driver has to slow down, change gear and possibly even reverse in order to execute the turn properly.
Skip passing is a technique whereby instead of taking row by row , the middle row is skipped deliberately. Initially skipping the middle row and then returning the same way means that only a single three-point or full-lock turn is required at the end of the field.
The theory is that the machine not only maintains a constant speed throughout, but there is less wear and tear and less time wasted turning.
"This kind of technique has been quite mainstream in the grain-farming industry since the advent of self-steering tractors, but has yet to gain a similar traction in the orchard sector," says Clark.
Visit masseyferguson.co.za.