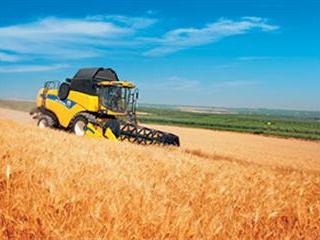 Lemken South Africa (Stand 171B)
Planter/harrow : Lemken will be showing a Solitair planter and a Rubin 9/600 KUA harrow. The Rubin can be used alone as a disc harrow or in combination with the Solitair to prepare the seed bed and plant in one operation. The planter is easy to calibrate (row spacing of either 125mm or 150mm), can plant different seed types and varieties at high speeds (from 1,5kg/ha to 300kg/ ha) and the seed tank capacity is 2 300l.
Mounted sprayers: The range of mounted EuroLux sprayers includes a tank capacity of 800l to 1 200l and spray booms with working widths of 12m to 24m. The TM series sprayers have manually switchable constant-pressure valves with five boom sections. The TL series is remotely-controlled and also has five boom sections. The mounted EuroLux sprayer TLE offers fully electronic automatic control systems and can be equipped with five to nine boom sections.
Trailed sprayers: The range of Primus and Albatros trailed field sprayers includes tank volumes from 2 400l to 6 200l and boom widths from 15m to 39m.
AGRO Industrial (Stands 41 & 42)
Landini 5H RPS range: The new series is fitted with the latest Perkins 1104D-44 TA engine, turbocharged and inter-cooled to TIER 3 environment standards. Four Synchro mechanical gears with three ranges provide 12 forward and 12 reverse gears. There are two models in the range: the 5H100 (68 kW) and the 5H110 (75 kW) and both are available in cab or platform configuration.
Landini Landpower: Has a completely new cab design. The old side doors with middle pillars have been replaced by doors hinged on the back cabin pillars. The large windows promote greater visibility, while the interior has a new control layout, and is spacious and comfortable. The mechanical features are unchanged. Power comes through a 6-speed synchronised gearbox with three ranges, plus creeper and shuttle, giving 36 forward and 36 reverse gears. There are four models: the 125 (86 kW), 135 (98 kW), 145 (104 kW) and 165 (116 kW).
McCormick G-MAX range: Identical to the Landini Landpower. The new models are as follows: G125 MAX (86kW), G135 MAX (98kW), G145 MAX (104kW) and the G165 MAX (116kW).
Theebo Tech (Stands 213 & 214)
In 2004 the Equalizer became SA's first commercially available wide span planter frame. Designed and built here, it offered farmers facing ever-increasing input costs the opportunity to improve their cost/ton ratios by using 12-row, 16-row, 18-row and 24-row planters. Now, the superb new Equalizer Precision C row units mean farmers can, more than ever before, rely on these planters to establish their row crops accurately and effortlessly.
Then there's the Min-Till SL planter, which has been developed to plant row crops such as maize, sunflower and soya beans in a single pass without any prior soil preparation. The soil-disturbing tine operates under hydraulic pressure ahead of the planter row unit. Through a parallel linkage, the tine placing the fertiliser and the row unit placing the seed are able to operate at a constant depth differential set by the farmer.
VB AGRI (Stand 100)
Designed and developed by VB specifically for SA fruit and vineyard farmers, the YTO F series was launched at Nampo last year and has been very successful. This year, models are available from 49kW to 64kW, with 2WD and cab options. Pictured is the YTO 1504 and the YTO 85F orchard tractor. Further development of the YTO range has involved the inclusion of Powershift technology in the gearboxes of the new YTO 112kW to 150kW range. These tractors are currently undergoing tests in SA.
Meanwhile, the YTO forklift range has been expanded from 2,5t to 5t. VB Agri will also be exhibiting a range of implements, including Florida sprayers, tractor mounted back-hoes, tractor front-end loaders, trailers and disc ploughs.
Falcon Agricultural Equipment (Stand 99)
Falcon will be highlighting cultivation implements manufactured by German company Amazone, including the 6m version of the Catros compact disc harrow. The standard equipment of the Catros 2 TS trailed models in 4m, 5m and 6m working widths includes a bogey chassis with drawbar. The models travel more smoothly, because, during operation, the running gear folds completely over the centre frame.
In addition, the weight of the running gear increases soil penetration. Depending on the prevailing field conditions, the Catros can be equipped with a cage, tandem, tooth packer, leaf spring, knife ring or wedge ring rollers. Operational speeds of 10km/h to 20km/h enable high work rates.
Valtrac (Stands 122 & 127)
Valtra's factory-fitted TwinTrac reverse-drive system is unique in the tractor world. Highly efficient and productive, it's ideally suited for many agricultural, contracting and forestry tasks – especially when you bear in mind many tractor-implement combinations work best when driven in reverse, and many heavy-duty implements can only be attached to the rear.
The Valtra S352 TwinTrac, for example, has about 250kW available at the PTO to drive the Kemper row independent forage harvester. The driver's seat, together with the main controls, rotates through 180°, and there's a second steering wheel at the rear, so the unit can operate in what would normally be reverse, thanks to the TwinTrac system. The driver has a perfect view of the operation and the tractor has maximum traction.
According to independent research, using a tractor with the TwinTrac reverse-drive system for mowing requires 12% less time and 11% less fuel. In addition, mowing in reverse puts significantly less strain on the driver's neck and back. "For example, on a 110ha farm that's mowed twice a season, working in reverse can, in practice, save the equivalent of one day's work. This can have a decisive impact on the quality and timing of the harvest in terms of weather conditions. In addition, the fuel savings are considerable," says Valtra's marketing manager Timo Mattila.
Valtra's innovative LHLINK front linkage attaches to the tractor's frame by a vertical pivot, allowing the linkage to turn the desired amount with the front wheels or even independently. In addition, the levelling of the lifting arms in relationship to each other can be adjusted vertically. The lifting capacity is 3,5t. At Nampo, Valtrac will have a Valtra N111 with a Pöttinger NovaCat 301 alpha motion front mower and a Novacat 442 trailed mower. This gives a cutting width of more than 7m with an 86kW tractor, saving time, labour and fuel.
The power of modern 4WD tractors usually means that, in order to get the best traction when using mounted or semi-mounted implements on the rear linkage, a massive amount of ballast has to be added to the front end to make the front-wheel-drive fully effective. However, Valtra has proved it's far more efficient to replace this dead weight with another plough up front. And Överum of Sweden has had considerable success with its matched front and rear plough sets.
The introduction of the TwinTrac has helped dry bean farmers in the eastern Free State immensely. Valtra T213 Versu and T171 HiTech tractors with TwinTrac, operating in reverse mode, are used to push Pickett One Step bean lifters. These tractors are much smaller than those which were previously used with the Picketts mounted on front linkages.
Valtrac will also be introducing the Pöttinger 1001 series Terradisc compact disc-harrows, in folding 3-point mounted and trailed versions and with working widths of 3m to 6m. The working depth can be adjusted using one of the tractor's hydraulic remotes – it's preset and secured using swing clips, which are easily accessible from the front of the machine. A harrow with tangential 14mm-thick tines can be mounted as an option.
Side tow Pierobon planters improve transport efficiency and are custom built to suit the customer's row requirements. They can also be configured from planting to side tow position in a few minutes by one person. At Nampo (due to size constraints) Valtrac will have a 14-row 500mm unit on show.