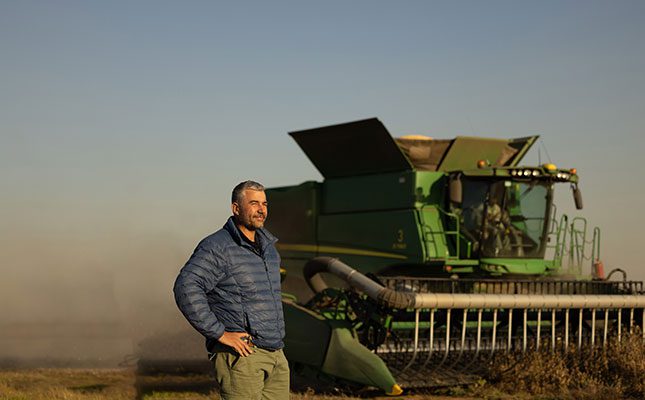 John Deere has always worked to offer personalised financial solutions to clients ever since the company allowed farmers to purchase their first ploughs on credit. As a dedicated business partner, John Deere will see you through, year after year. Streamlined internal processes and digitalisation enable efficiency, allowing the company to maintain strong client relationships.
Valuing clients' dreams
WA de Klerk, a loyal John Deere Financial client, is a passionate farmer of maize, soya beans and cattle. He describes farming as "a lifestyle" rather than a business venture. "It's great when farming becomes more than a job, but a hobby you enjoy," he says.
De Klerk has been in the agriculture industry for 21 years, farming alongside his father in Hendrina, Mpumalanga. He can hardly contain his excitement over the advancements in technology, and looks forward to his next 20 years in South African agriculture! Because John Deere Financial shares his level of dedication, De Klerk is able to partner with them to achieve his financial goals, so he can keep living his dream.
Staying ahead of the curve
Advances in banking and agricultural technology give John Deere the opportunity to think differently about agricultural financing. They work closely with their alliance partners to ensure that their financial offerings meet the client's specific needs, enabling on-farm efficiency. These strategic partnerships also empower John Deere to offer attractive interest rates and flexible financing options that cater to the unique demands of the agriculture sector.
For example, these flexible financing options allow farmers to purchase equipment and machinery without having to make a large upfront payment. Because John Deere recognises the cyclical nature of the agriculture industry, the company makes it possible for your business to thrive wherever you are in your cash flow cycle with their specific, personalised financial services.
John Deere: a name you can trust
John Deere Financial understands that we live in an ever-advancing world, with agricultural demands increasing and technology progressing at a fast pace.
Since De Klerk's grandfather's time on the farm, they have exclusively used John Deere equipment. "This is more than equipment; it is a beloved brand that we are proud of," he says. With John Deere Financial, farmers can access the best John Deere equipment, using trusted implements and machinery on their farms.
Grow with personalised support
At John Deere Financial, the customer is more than just a number because his or her business is valued, and the company strives to help farmers reach their specific financial goals.
De Klerk speaks highly of his relationship with his John Deere Financial finance specialist. "Our relationship keeps growing," he states confidently. "This is more than a business relationship: it is a partnership."
Your John Deere Financial finance specialist knows your industry and your business – they understand the nature of this sector and the particular cash flow challenges you might face.
With their guidance and expertise, you can receive a personalised financial service enabling increased profitability and growth.
John Deere Financial specialists possess extensive knowledge of the agriculture industry, offering expert, sector-specific advice and support that benefit both small-scale and commercial farmers.
"In the current business climate, you can't afford to stagnate," says De Klerk. He believes that with John Deere Financial, his business can leap forward.
Contact John Deere for more information on their services and personalised financial solutions. Visit www.deere.africa/en/