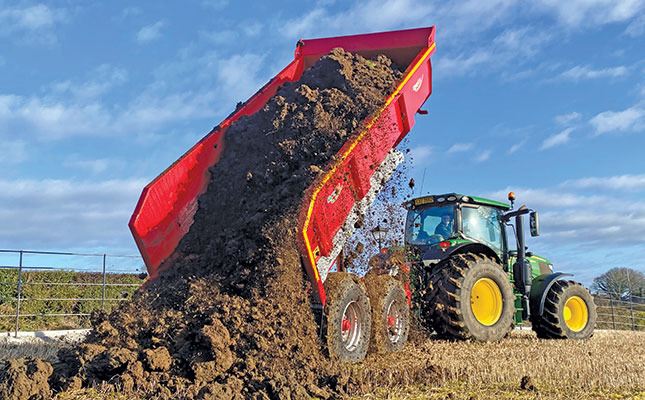 In answer to strong customer demand for a multi-purpose trailer, SlurryKat, an agricultural machinery manufacturer based in Northern Ireland, has introduced a dump trailer that doubles up as a silage trailer when a special kit is added.
In a statement, CEO and principal design engineer Garth Cairns said that the company had developed a special Premium Plus range of combination silage dump trailers.
"The new SDT trailers incorporate our 22t Hardox half-pipe Premium Plus dump trailer plus an additional silage kit including a hydraulic silage door," he added.
The dump trailer used in the SDT range is in fact a completely new design, with a new chassis and a new pendulum bogie system. It is also available with multi-leaf sprung suspension, if required.
Superior tipping power
According to the company, the trailer has a single tipping cylinder with 52t of force in the first stage, which gives it superior tipping power even if the trailer is overloaded.
The chassis and all the main components, except the body, are made of S355 high-tensile steel. The body is made of Hardox S700, a very hard and durable steel.
"Using this high-quality material means that we can make the trailer lighter by using 5mm-thick material on the body whilst still achieving the high structural strength the trailer requires," said Cairns.
"Looking at the body itself, the trailer is a half-pipe dump trailer, but with the added features of a rear dropping door. All half-pipe trailers on the market have an upward-and-over type of hydraulic door. This one has a dropping door at the bottom, which means it's square at the back. It goes from a half-pipe formation to a full-width square rear door, which is thought to be the only one on the market with this design."
The trailer widens significantly towards the rear, greatly improving discharge speed without leaving material behind.
Silage kit
The silage kit, including the door, is designed to be removed in one piece, allowing the dump trailer below to change fast and efficiently between applications.
When the kit is added, the dump trailer door drops flat to create a flat floor for easy material flow.
The silage kit features a forward-sloping, dropped front panel, which is a considerable help when opening up silage fields and blowing grass over the tractor hauling the trailer.
When the silage kit is added to the dump trailer, the combined unit has a capacity of 34m3 of silage.