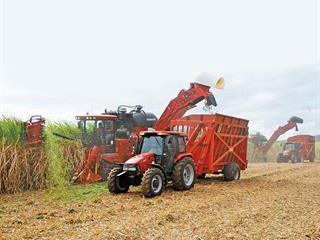 Case IH Africa recently held its 'Sugarcane Harvester Camp' in Mauritius. The event attracted representatives from corporate customers and agro-industrial farms in the sugarcane and bio-ethanol sectors in several African countries, including Sudan, Mozambique, Tanzania, Kenya, Zimbabwe, Nigeria and Sierra Leone.
Case IH used the occasion to demonstrate its Austoft 8000 series cane harvesters. "These machines have some exclusive features that improve their already outstanding efficiency," said Case IH's Yoann Clarisse. "The SmartCruise adjusts the engine speed according to load demand without operational loss in the hydraulic system, with benefits for fuel consumption, longer engine life and reduced downtime for maintenance.
"This is crucial for most of our customers, as they run harvesting operations 24/7. Some of our sugarcane harvesters work for more than 7 000 engine hours per season." Another feature is the unique Antivortex system that increases the removal rate of all extraneous matter and reduces cane loss through the extractor fan. Case IH also offers the Austoft 4000 Series for small to medium lands with narrow row spacing, where versatility and excellent manoeuvrability are important considerations.
Experiencing the machines
Attendees of the camp had the opportunity to test-drive high horsepower Case IH tractors, including the Steiger, Magnum and Puma series, in in-field working operations. Also on display were self-propelled sprayers, tillage and seeding equipment, balers and other implements.