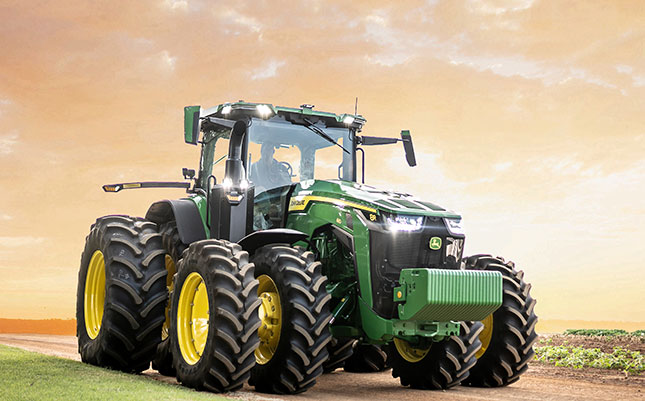 In gratitude and honourable remembrance of those who are not with us anymore, we are delighted to once again go full steam ahead with Nampo this year. We were created as people to be in touch with one another, to share, to listen, to care and to enjoy each other's company.
We are therefore looking forward to welcome each and every one to our John Deere stand at Nampo this year. Apart from sharing product details and exchanging information around technology and agricultural solutions, we look forward to meeting people face to face again, and to catch up on what has happened in everyone's lives over the past two years, and especially to talk about plans for the future.
Over the past two years, John Deere has shifted its worldwide focus from a platform or product approach to a production system approach. This means that, through a combination of equipment, technology and services provided by John Deere and its dealers, we offer farmers and clients economical and agronomical value, as well as sustainability of their production systems and the steps that are followed in this process.
Through the data and information that are collected and the capacity it offers our clients to make better and more informed decisions along every step of the production process, we want to ensure that every seed, pip or grain matters during the planting process, each drop of water makes a positive difference, and each seed or kernel that is harvested counts.
This principle is essential to ensure sustainability, especially during the current challenging times, in which input costs and uncertainties are set to rise even more in the future.
Technological developments
In addition, John Deere is at the forefront of new technological developments worldwide, and although all of these are not being made available to the market immediately, we will share information about it at our technology display.
Technology that is already available, however, includes JDLink, Operations Centre, solutions aimed at after-sales service and early fault detection, as well as various precision-farming solutions. More detail regarding this will be shared in an uncomplicated manner, because, as already mentioned, data and information and its correct application as an integrated solution with John Deere's machinery is crucial in ensuring future sustainability.
For each of the four grain production steps, applicable new technology and equipment will be displayed and explained. On the equipment side, the 8RX tractor with double-track wheels on each side can be viewed for the first time at Nampo. The tractor is already available for sale and has proved itself under South African conditions.
Farmers can also come see our latest harvesting technology, where we compare very favourably when it comes to harvesting capacity, and ensure that crops are removed from the land in the required time frame. Moreover, the latest technology around self-propelled sprayers  will also be shared.
John Deere's 6B series of tractors are perfect workhorses for our local conditions, and models vary from 95 to 135 horsepower, making them ideal for application in grain cultivation, for use in the sugar, livestock and dairy industries, and general farm work. Look out for a special promotion on these tractors!
In the stable of our smaller tractors, we display the 5E series 3- and 4-cylinder tractors, of which the 75 horsepower 5075E 3-cylinder model has been the top seller of all tractor models in South Africa over the past few months! View this tractor and gain insight into why it has been performing so well, and gather memories of Nampo 2022 with this model.
John Deere Financial will also launch its exciting new business model at Nampo. Feel free to come and talk to our experts about this model, which offers a better experience and service delivery, as well as competitive interest rates for product financing.
John Deere dealers and after-sales services put our clients' needs at the forefront and are ready to share more information and solutions. By upsetting the apple cart, more information will be shared on PowerGardTM: John Deere's extended warranty plans on tractors self-propelled sprayers and harvesters.
On any farm there is constantly a need for repair and construction work to be done, be it structures, roads, dams or fields that need attention. A remedy for this will, for the first time, be displayed at Nampo by John Deere through its range of construction machines and solutions.
Come and learn more about the latest technology in the construction industry and how these machines can make the work on your farm easier.
It is important for us as people, through our collective endeavours towards excellence and sustainability, to make a positive difference, not only in our beautiful country, but also across the rest of the world, and thereby preserve the earth for posterity.
We are all together on this journey to make our dreams come true, and we wholeheartedly look forward to starting this venture with you at Nampo 2022!
Visit deere.com/sub-saharan, or email [email protected]. Phone 0800 983 821.