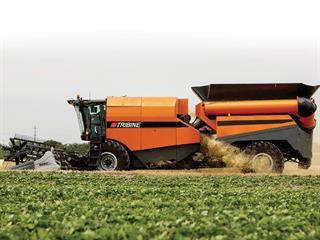 Ben Dillon from Indiana in the US is ready to start production of the Tribine. This combine and grain cart in one unit represents the first real change in combine design since self-propelled combines started coming off the Massey Harris production lines in the 1940s.
Dillon's game-changing concept moves the grain tank from the top of the combine to a far larger bin on a separate, but connected rear axle unit. This gives an articulated combine and grain cart combination that is highly manoeuvrable and has a grain capacity similar to that of the larger chaser bins currently in use.
"Our focus has been on handling the cleaned grain, not on threshing," says Dillon in a recent interview with Ohio's Country Journal. "This is now the fourth prototype that we've built, using an AGCO Gleaner as the combine section. The Tribine has really evolved from the combination of everything we've learnt over the past 12 years."
"We believe that two minutes is the magic number that tries the patience of the operator and with the Tribine you can load a 27t capacity truck/trailer combination in two minutes," says Dillon.

Saving time
"In a good crop of maize, with a 12-row header, the Tribine can go more than one and a half kilometres so you can always unload at the same end of the field," adds Dillion.
This saves time and fuel. You also don't need a grain cart. Because the Tribine is articulated and can turn 30° each way, as well as being able to crab steer, it's possible to put the rear tank section closer to the trailer. The discharge auger is 7m long, but the overall length of the combine is 10,6m, shorter than some conventional combines.
Less compaction
The Tribine also reduces soil compaction. It's a symmetrical vehicle and as it moves across the land it leaves only two tracks. A grain cart chasing a combine leaves many tracks because it is pulled by a tractor that does not necessarily have the same axle track width as the combine.
In addition, the front axle of the Tribine carries less load than a conventional combine with a grain tank and the total weight is lower – "and that's not even taking into consideration the weight of the 150kW tractor needed to pull the grain cart," says Dillon.
What's more, the four huge 1,2m wide, 1,8m high tyres are claimed to cause less compaction than those of a standard combine. Dillon has taken out a total of 28 patents on the Tribine. With full-time 4WD and four-wheel steer it is considered a Class 8 combine.
A new 2ha production plant in Newton City, Kansas, will house the engineering and admin offices of 'Tribine Harvester' as well as the final assembly, testing and shipping offices.
Assembly is scheduled to start in January 2016.