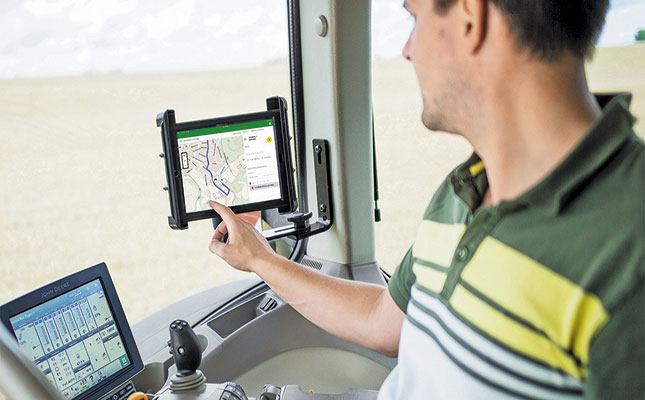 Farmers worldwide are under ever greater pressure to produce food, fuel and fibre more efficiently. This is driven partly by growing demand and partly by relentlessly increasing input costs.
At the same time, like business owners everywhere, they have to make a profit.
According to agricultural machinery manufacturer, John Deere, one way of achieving all these goals is through connectivity, because this enables a farmer to make the most of real-time machine and field data to improve performance, reduce downtime and cut operating costs.
A survey carried out in the Netherlands involving 243 agricultural contractors showed that investment in a connectivity package yielded an average saving of 56% in administrative costs and more than 30% improvement in the work rate. At the same time, it reduced the risk of error by 33%.
John Deere's new Farmsight programme, which operates from the MyJohnDeere.com website portal, is based on connectivity. The Operations Centre at MyJohnDeere.com serves as the central online location connecting machines and lands.
With the farmer's permission, it also allows a range of partners, such as implement manufacturers and input suppliers, to provide additional support.
Here are some examples:
Wireless data transfer allows the exchange of set-up files, prescription maps and documentation data between the office and the machine on the land, reducing the risk of losing information.
Connectivity at various levels maximises efficiency. A farmer can benefit from a satellite-linked automatic guidance and a hands-free steering system via Autotrac and iTEC Pro. Tractor and implements can be connected via Tractor Implement Automation to ensure easier operation.
And business performance can be enhanced by accessing John Deere Farmsight telematics solutions through the mobile phone network. MyJobConnect and MyJobsManager apps help a farmer carry out jobs more efficiently and cost-effectively in real time via mobile devices.
John Deere claims to be the first full-line agricultural manufacturer to introduce a navigation and logistics optimisation system designed especially for farm use.
Using remote display access, a farm manager can provide remote operator support to optimise machine or implement set-up and assist with operator enquiries. For example, John Deere dealers can connect to machines to update software, access diagnostic codes, and perform troubleshooting.