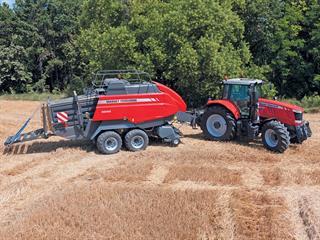 The MF 2200 series with the new ProCut system combines a huge increase in capacity with a finer, uniform chop.
"We know, from customer experience, that chopped silage bales can reduce mixing times in feeder wagons by up to half while saving power," says MF product marketing manager (harvesting) Mark Grigson.
"Chopped straw bales are now becoming more widely used not only for bedding, but also as part of total mixed rations. Users are looking for a finer chop."
New quad augers on each side provide a consistent feed to the rotor, increasing capacity and ensuring unrestricted, uniform feeding. The 650mm diameter ProCut rotor has 26mm-wide hard-faced, cast steel fingers arranged in a spiral 'V' formation.
Rotor fingers are made in three sections with clamps bolted onto the centre tube. This unique mounting system allows easy replacement of damaged sections without removing the rotor, saving time and maintaining productivity.
The driveline on the new balers can handle the load imposed by the increased capacity. The gearbox fitted to the six-string 1 200mm-wide bale models has wide strong gears, high-load bearings and seals that resist heat.
The PTO slip clutch torque load is rated to handle the huge capacity and there is a new slip clutch and cam track design for the pick-up.
Tests have shown that slightly advancing the timing allows the swathe to be more effectively gathered.
ProCut balers retain the proven high-capacity packer forks that move the material into the pre-compression chamber. This system makes perfect 'flakes', with uniform density from top to bottom. These are responsible for the renowned consistent shape of the bales produced by the Massey Ferguson baler.
The density of the bales allows trucks to be loaded to their full legal capacity for economical road transport, opening up the possibility of supplying distant markets.
Joe Spencer is the mechanisation editor of Farmer's Weekly.