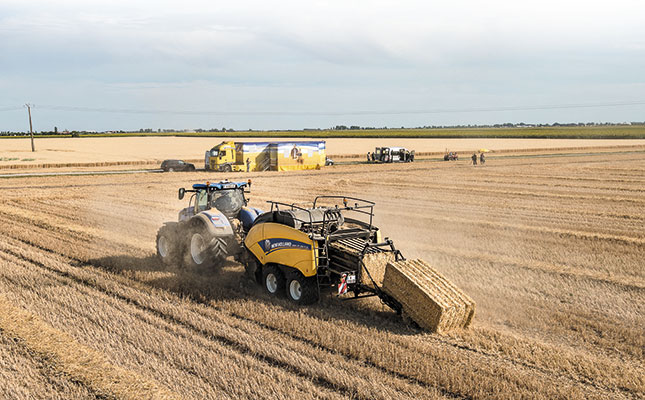 New Holland recently tested the BigBaler 1290 by linking it to a T7.315 tractor and working it for 17 hours over two days. The BigBaler exceeded all expectations.
"It delivered exceptional productivity, with every bale of consistently high quality and weight," said Simon Nicholl, head of hay and forage crop production at New Holland.
READ New Holland acquires Kongskilde
"Moreover, it achieved this outstanding performance in the real conditions that straw 16contractors operate in, with hot and dry weather and long hours."
The trial took place at La Duranderie Farm in the Pays de la Loire in France. The straw baled was from crops of durum wheat and the results were certified by the Société Générale de Surveillance (www.sgs.co.za).
On the first day, the baler worked in sunny conditions in temperatures ranging from 19°C to 27°C, completing three lands (84ha).
Similar temperatures were recorded on the second day, although weather conditions were more changeable. After 31ha, it was decided to halt the trial as light rain saw the bale moisture rising above 14%.
By this time, the T7 and BigBaler had baled a total of 115ha in 17 hours.
These outstanding figures were due in no small part to the IntelliCruise feed rate system, which controls tractor speed in relation to crop yield.
It ensures an optimal crop feeding rate into the baler and results in greater productivity and lower fuel consumption.
Throughout the endurance challenge, the Intellicruise system automatically adjusted the tractor speed so that the baler operated at the optimal speed, enabling it to achieve an average rate of 32t/hour.
Recent changes to the BigBaler, including a longer bale chamber and other Plus Package improvements, also contributed to the results of the trial.
Good quality bales
In the end, the BigBaler produced 1 254 high-quality bales, maintaining consistent bale shape, an average bale weight of 434kg and bale length averaging 2,37m – hour after hour.
The baler also proved exceptionally reliable, with no twine snapping, blockages, missties or shear bolt failures, enabling baling to continue without stoppage throughout the two-day test.
Fuel consumption
The BigBaler Plus and New Holland T7.315 Heavy Duty AutoCommand tractor with Intellicruise made a highly productive and fuel-efficient team.
The performance data, recorded through the Precision Land Management telematics system, showed that the tractor used 481,7ℓ of fuel in total, with an average consumption of 0,89ℓ/t baled or just 0,38ℓ/bale.
Joe Spencer is the mechanisation editor of Farmer's Weekly.