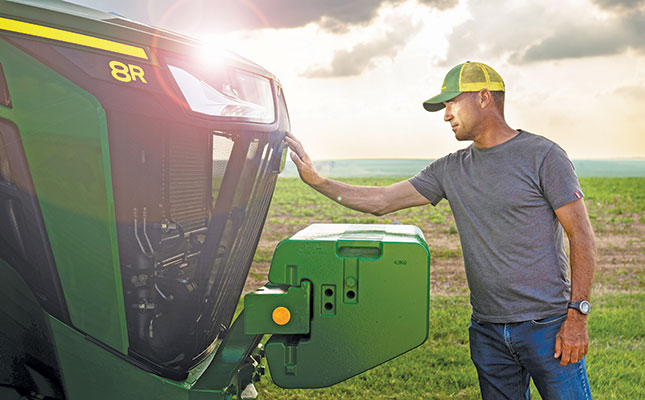 John Deere is a world leader in agricultural technology, and its new 8 Series tractors, with smart technology, testify to this.
The 8 Series includes the 8R, 8RT and 8RX tractors:
The 8R tractors are equipped with wheels and deliver from 230hp to 410hp (169kW to 306kW).
The 8RT tractors have two tracks and deliver from 310hp to 410hp (231kW to 306kW).
The 8RX tractors, which have four tracks, range from 310hp to 410hp (231kW to 306kW). The largest model is the most powerful John Deere fixed-frame row-crop tractor available.
All 8 Series tractors feature a Gen 4 4600 CommandCenter control screen, a StarFire SF6000 integrated receiver and AutoTrac for smooth automation guidance of precision tasks. The John Deere PowerTech 9.0-litre engine and choice of transmissions deliver straight-line pulling power and efficiency while ensuring excellent total fluid economy.
All models come with a variety of transmission offerings. The 8R wheeled models offer a selection of the proven 16-speed PowerShift transmission for simple, reliable mechanical power while the e23 PowerShift and the infinitely variable transmission (IVT) are also available.
The e23 PowerShift transmission with Efficiency Manager has 23 evenly spaced forward gears. The IVT allows operators to move smoothly from 0km/h to 40km/h, or any speed in between, including creeper speeds as low as 50m/h.
The IVT transmission features the new CommandPRO, an entirely new driving experience, and delivers seamless control of the tractor and its implements.
Producers can choose from a wide variety of axles, spacing, wheel and track sizes.
Comfort
The 8 Series cab offers enhanced practicality and luxury and is the company's most spacious to date, with a 24% wider doorway than any other JD tractor.
The cab has extra headroom, extra storage capacity and extra USB ports, and three comfort packages are available: Select, Premium or Ultimate.
The Ultimate option offers a leather seat with electronic controls, heating, ventilation, adjustable bolsters, pneumatic lumbar support and a massage. It can be swivelled 25° to the left and 40° to the right.
Other luxury features in the Premium and Ultimate packages include a 16,5cm touchscreen radio, six speakers with a subwoofer, leather steering wheel, footrests and a fridge. All cab packages have a dual-tilt steering column.
Practical improvements across the 8 Series include better visibility, larger stairs, and a seat that rotates further, enabling the operator to watch the drawn implement easily.
Support
The 8 Series comes with five years' access to JDLink, with John Deere Connected Support to enable the owner to communicate with the tractor. The system also transmits data to John Deere Operation Centre on tractor location and performance for viewing on smartphone or desktop.
Power
The 8 Series tractors can utilise a variety of large mounted and drawn implements, such as tillage and large-frame planters. They can be equipped with rear hitch options to handle up to 9 072kg.
Optional dual hydraulic pumps with 318ℓ/min capacity on the 8R and 8RX models enable the operator to run large implements with high-demand hydraulic systems.
CommandCenter, StarFire, AutoTrac, e23, Efficiency Manager, JDLink and Connected Support are registered trademarks of John Deere.
For more information visit www.deere.co.za or phone the John Deere offices on 011 437 2600.