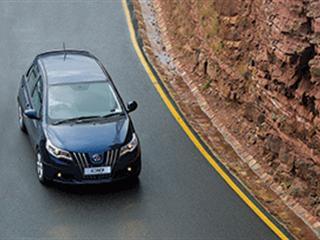 Chinese manufacturers are renowned for mass-producing almost every consumable on the planet, as well as undercutting other manufacturers' prices. Sadly, all this is often outweighed by the doubtful quality of much of their output. China's Great Wall Motors' C10 hatchback is a welcome contrast to this. Here is a well-made, comfortable, good-looking hatchback that's packed with features, yet goes for R139 900. It's difficult to deny that it's great value for money.
GWM South Africa enthuses about the car's "racy, striking lines", and I'm inclined to agree. My wife and I both found the V-shaped grille sporty and appealing. The look is enhanced by the handsome 15-inch alloys, integrated exhaust tip, and rear spoiler with high-mounted brake light. The C10 is powered by a 1,5-litre, four-cylinder petrol engine with variable valve timing and multi-point injection. Consumption, according to GWM, is a remarkable 7,1l/100km on the open road. The car is fitted with a 40l petrol tank.
Unfortunately, the car's gutsy sportiness is confined to its design. While the C10 accelerated adequately and maintained cruising speed on more or less level motorways, we had to work the five-speed manual gearbox hard on hilly and windy national roads. This became increasingly noticeable if the air-conditioner was on, or if the car had more than two people on board. We had to think twice about overtaking if there was a blind rise or corner in the distance, in case the car could not accelerate fast enough.

Steering-mounted sound system controls and electric windows are some of the C10's luxury features.
Nonetheless, we enjoyed the C10 a great deal and agreed that had we been able to spend longer with it, we would in all likelihood have adjusted to this relative lack of power. Certainly, it was more than compensated for by the C10's comfortable, safe drive, practicality and many top-end features.
Safe and luxurious
For safety on the road, the C10 has a highly effective anti-lock braking system and electronic brakeforce distribution (EBD) system, and comes with front and rear fog lamps. A helpful feature is the reverse park assist system that warns if the car's rear bumper gets too close to an obstacle. The C10 features dual front airbags, three-point seatbelts for all five passengers, angle-adjustable headlights, an anti-glare internal rear-view mirror, and a rear window wiper.
An alarm sounds if the driver and front passenger are not wearing seatbelts, if a door is left open and when the fuel level hits reserve. Interior amenities abound. The C10 offers an air-conditioner, a highly capable radio/CD/MP3 audio system with auxiliary and USB inputs, an immobiliser and remote-controlled central locking, power steering, an adjustable steering column with steering-mounted sound system controls, a six-way height-adjustable driver's seat, electric windows, and electrically adjustable side-view mirrors.
A thoughtful touch is the 12-volt socket in the console between the driver and front passenger, which can be used by rear passengers to power items such as a laptop. Hatchbacks such as the C10 are often short on luggage space. Admittedly, if the C10 is carrying five passengers there is little space for anything else. However, if there are four or fewer passengers, luggage space can be increased significantly by using various seat-folding options or rearranging the floor covering.
And if only the driver and front passenger are aboard, the C10 can carry a phenomenal amount of luggage once the rear seats are folded down – perfect for couples on holiday or students. The GWM C10 comes with a three-year/100 000km warranty and two-year 24-hour roadside assist. All in all, here's a package that's worth serious consideration.
Contact 031 100 1000 or 011 805 6621, email [email protected] or visit www.gwm.co.za