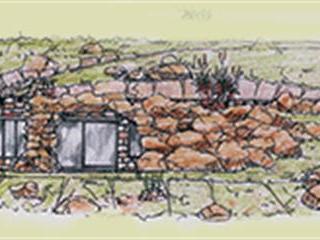 Hi Jonno
We enjoy your articles in Farmer's Weekly and we want your help in designing a holiday cottage. We have a farm in the Elliot region of the Eastern Cape. The site we have chosen is on the south-eastern slope of a mountain, with a view to the south-east. We want the cottage to blend in with the surroundings.It must be cost-effective to build. We want three bedrooms with the main en suite and the usual open-plan living area and kitchen. It will be a getaway holiday cottage for family and friends.
Looking forward to your ideas,
Best regards,
Maaike & Stefaan
Section E
Ground floor plan
Total floor area: 110m2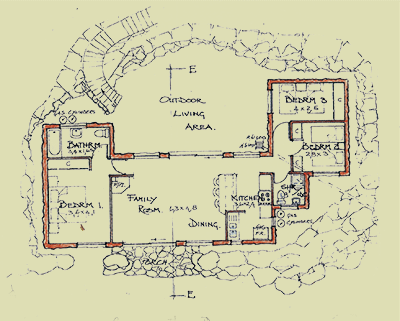 Greetings Maaike and Stefaan
You certainly got me thinking about your envisaged project, with all the necessary inclusions. The sketch says it all. Essentially, the site needs to be excavated to achieve a suitable platform to build on. The rock that is then removed can be placed to form a south-facing rockery façade; leaving an inner area for the cottage to be built on. The layout of the cottage allows for an adequate sleeping area and an outdoor area, sheltered from the elements and on the northern side. The roof is shown with a shallow pitched metal roof, but if heavy snowfall is experienced, a concrete slab roof should be substituted and to a structural engineer's design detail. If the rooms are a bit small, they can be increased proportionately.
Let me have your further thoughts and ideas.
Kind regards,
Jonno