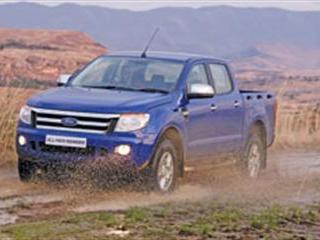 Ford can truly be proud of what it calls its all-new Ranger range of bakkies. It has been a while since I've driven a vehicle designed for tough farm work that has truly been capable of delivering the goods. Over the course of the week that I test-drove the 3.2 TDCi XLT 4×4 6MT Double Cab model, I found exceptionally little to fault in this vehicle – both on the farm or on the open road.
The latest Ranger range includes an impressive 23 variants of diverse capabilities and features. The test vehicle was powered by Ford's new generation TDCi Duratorq engine. It's a turbocharged commonrail injection engine with five cylinders, 20 valves, a 3,2l displacement, and a variable geometry turbo-charger. These attributes contribute to a maximum 147kW power output at
3 000rpm, and a peak 470Nm of torque, with 90% of this available from 1 700rpm to 3 500rpm. According to Ford, its Duratorq engines were tested at altitudes from 400m below sea level to 4 500m above sea level, and demonstrated reliability, durability, higher power and improved fuel economy throughout the range. According to Ford, the vehicle has an average consumption of 9,6l/100km under mixed driving conditions. Range too is acceptable, thanks to a decent-sized 80l fuel tank.
Six-speed manual gearbox
For the first time, the Ford Ranger stable allows buyers the option of a six-speed manual transmission model. I agree with Ford's view that this transmission system enables the driver to take full advantage of the engine's improved torque capability. I found that from initial acceleration all the way to highway speeds, the vehicle's gearing did not disappoint. What I did find, though, is that the gears are closely spaced and sometimes sticky, leading to a few unpleasant, but fortunately not disastrous, gear-skipping experiences while down-shifting.
Then again, I had this bakkie for only seven days; I'm sure that a Ranger owner would soon become proficient at handling the gearing. The new Ranger that I drove was a 4×4 model, and it was pleasing to experience the vehicle's seamless, on-the-fly transition from high- range two-wheel drive to high-range four-wheel drive and back again, at the mere turn of a convenient dial near the gear shift.


Dashboard– mounted controls are almost flush with the surface, minimising the risk of being bumped or broken. The built-in sound system, the hands-free cellphone system, and the cruise control system can all be controlled via steering-mounted buttons. The instrument cluster provides all the information required without overly complicating matters. Curtesy of www.quickpic.co.za

I found that while the bakkie's roadholding on tarred ascents, descents and curves at higher speeds in high-range two-wheel drive was superb, it was absolutely necessary to select high-range four-wheel drive for faster driving on dirt roads. Without a load on the back suspension, the new Ranger's rear tended to bounce around and slide out under these conditions, and high-range four-wheel drive capably provided the necessary roadholding.
The test vehicle can carry 1 049kg in the load bin and tow a braked trailer of up to 3,35t, thanks to its hi-trail (raised) suspension system, double wishbone suspension in the front, and leaf springs in the rear. It has a 237mm ground clearance, and an exceptional maximum wading depth of 800mm.
Packed with features
The standard safety and security features that come with this particular Ranger are impressive and make driving it a pleasure. They include an anti-lock braking system with electronic brakeforce distribution, an electronic stability programme with dynamic stability control, seven airbags, hill descent control, hill launch assist, roll-over mitigation, adaptive load control, trailer sway control, remote keyless entry, an alarm, and an immobiliser.
The interior has been completely redesigned and offers all the necessities to get the job done effectively. All of the interior controls are conveniently situated and easy to use, and most are more or less flush with the surfaces, minimising the risk of breakage. Appointments are luxurious and offer everything one could wish for in a bakkie – and more. The seats are trimmed with leather, storage compartments and cup holders are handily located, and there are convenient features such as cruise control and hands-free Bluetooth cellphone connectivity.
The Ford Ranger 3.2 TDCi XLT 4×4 6MT Double Cab has a 15 000km service interval, and comes with a five-year or 90 000km service plan, three-year and unlimited kilometre roadside assistance, a four-year or 120 000km comprehensive warranty, and a five-year and unlimited kilometres corrosion warranty. At the time of going to print, the 3.2 TDCi XLT 4×4 6MT Double Cab was priced at R384 167 (excluding VAT) or R437 950 (including VAT).
For more details on the all-new Ford Ranger models, contact your nearest Ford dealer or visit www.ford.co.za