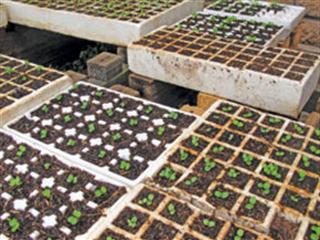 It's a story of action and passion put into practice, regardless of the odds. Werner Brand has been growing vegetables using an organic approach outside Vredenburg for only 18 months. Even in these early stages, he can't keep up with demand. A confirmed vegetarian, Werner started growing his own vegetables because he wanted to eat fresh, wholesome food. "I sent surplus vegetables to friends and neighbours. They were ecstatic, so I knew there was a market," he says.
He visited Cape Town's Epping Market to see how long fresh produce stays in transit between harvesting and final sale. He realised he could greatly reduce this time and the transport carbon footprint. He laughs and admits: "If there were more Werners, more people could have fresh vegetables harvested that morning on their tables that evening."
Werner studied civil engineering and plumbing, but his passion for quality, pollutant-free fresh food came to the fore and his Magic Organic farming business was born. "To get things going, I started a gardening business to boost my cash flow. It's a complementary activity as I use garden cuttings to make compost for the gardens I tend and for my own vegetable garden. Some of the soft garden cuttings also feed a worm farm that produces vermicast, a type of organic fertiliser I use in the crops."
Organic compost production
Werner makes his compost from garden cuttings surrounded by a cuff of low grade straw. He separates coarse and fine cuttings, selectively adding each to the compost heaps so that not too much rough material is included. "This will over-aerate the compost and it will get too much oxygen," explains Werner. "The pile won't heat up enough to kill weed seeds.
"We build a layered compost heap in a ratio of 1 part of green material to 25 parts of brown material. It's a ratio that works. The correct proportion, with not too much nitrogen-releasing greenery, retains the ammonia in the compost which is transformed into nitrates used for plant growth." Four components – carbon-forming materials, nitrate-forming materials, oxygen and water – are essential for good organic compost.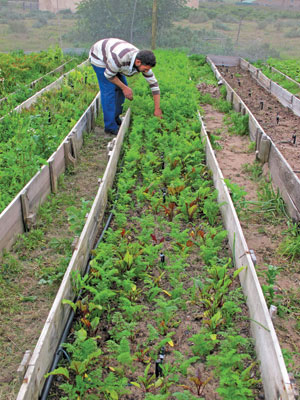 Companion planting has two important benefits: resting different layers of soil and breaking the life cycle of pests associated with specific plants.
"With the correct ratio between these four elements, anyone can make good compost," says Werner. "Inside the pile, the temperature reaches 70°C. Compost should be turned once a week for the first four weeks, and then every second week for the last four weeks. Allow it to stand for two to four weeks to drop to the ambient temperature before using it. From start to finish the process takes eight to 12 weeks. "The function of compost is to condition the soil, to add and feed soil-building microbes and to make nutrients available to plants. It also balances soil pH and enhances the soil's water retention capacity."
Farming worms for fertiliser
Werner's earthworm farm has been going for four years. It started with a box measuring half a square metre, and is now more than 100m² of hungry worms. "Compost is a soil builder, not a fertiliser," explains Werner. "Vermicast, or earthworm castings, is seven times more valuable as a source of plant nutrients than normal compost. We fertigate the plants with a vermicast tea, as a side-dressing at a specific growth stage. Otherwise, we work it directly into the soil a week or two before planting."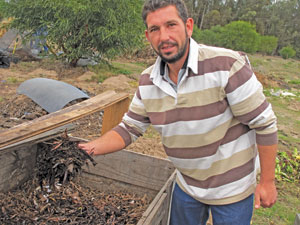 Earthworms process any plant matter into organic fertiliser, and once the worm farm is set up it requires only food for the worms.

Werner breeds worms specifically for vermicast to use in his organic vegetable farm, and sells surplus worms "to motivate people to recycle". The worms eat anything from fruit and vegetable scraps to fine garden cuttings. Rough garden cuttings form the worm bed, which also becomes worm food after about a month.
Organic vegetable production
Werner sows seed of open-pollinated varieties in his own seedling growing medium. He plants seedlings out into beds according to the companion planting principle: eg. basil with tomatoes, and spring onions with lettuce; the strong herbal aroma of basil and onion keeps aphids and other insects at bay. He rotates crops to break the life cycle of specific plant pests and diseases by growing a leaf crop after a root crop. Leaf and root crops attract different bugs, and if the appropriate host plant is not available, the pest's life cycle is broken.
Leaf crops have a fibrous root system gathering nutrients from the top layer of soil, while root crops gather nutrients from deeper down. As an example,spinach is followed by radish, carrots, or beetroot. A second type of rotation is planting a legume crop after a root crop. The legume converts atmospheric nitrogen into nitrogen available in the soil. For additional pest control, Werner selectively and on a very small scale uses organic pesticides derived entirely from plant material.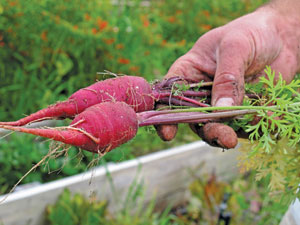 Purple dragon carrots don't look or taste like ordinary carrots, but have proven to be a popular seller.
"I also make a garlic, chilli, onion and red pepper repellent for soft bodied pests such as aphids, spider mites, American boll worm and various other caterpillar pests," he adds. Diatomaceous earth consists of the minute exoskeletons of microscopic phytoplankton. Ground to a fine powder, it is used for dusting leaves. It can also be mixed with water and sprayed on leaves to repel caterpillars and other soft bodied insect pests. But, because it's a non-toxic repellent, the success rate of 60%-70% means it must be applied more frequently than a chemical pesticide. It's effective on tomatoes but not on lettuce, since a white residue is left on the leaves.
Werner emphasises that natural farming is very hands-on. "I inspect the plants daily. When it comes to pests, prevention is better than cure. To stay in business I need an 80% return on what I plant. Every seed planted is important, and I must ensure that it grows and can be harvested."
His winter crops include varieties of cauliflower including purple Sicily cauliflower, cabbage, broccoli, turnips, radish, beetroot, carrots including purple dragon carrots, spinach, lettuce, spring onions and leeks. Summer crops are mostly speciality lettuce, spinach, green beans, squashes, beetroot, baby butternuts, pumpkins, sweet bell peppers, aubergines, tomatoes and green peppers.
Market demand
"There's a big demand from local people for really fresh, clean vegetables," he confirms. "More and more people want to know where and how their food is grown, and that it's as pure and fresh as can be." On Mondays, Werner sends text messages to his clients telling them which vegetables are available for the week. They place their orders, pay by EFT, and he delivers the produce at designated points on Fridays. He harvests before sunrise every Friday to ensure freshness.
"My goal is not to supply big fruit and vegetable shops, as they demand certain lines and quantities I don't always have. I prefer to supply high quality produce to a smaller number of clients who want fresh, organic food. So far it's very profitable for the amount I produce and is already sustainable, yet my vegetables are also very well priced."
Werner says his only complaint is that there isn't enough time in the day. "Actually, it's all going extremely well with no significant financial investment." For the past few months, Werner has also been selling earthworms and says business is picking up well. "The potential, will be realised with patience. In the meantime, the worms are useful and low maintenance."
Future plans
In a year or so, Werner plans to hand over management of the gardening business and focus full-time on the vegetable production. "I know I can sell everything I harvest, and currently I just can't produce enough for local demand." When time permits, he plans to start promoting recycling through worm farms and running educational campaigns at schools and restaurants so that people realise there are many ways to recycle – and that earthworms are living composters.
"One thing that won't change," Werner smiles, "is that organic vegetable farming on the West Coast is a rollercoaster ride. But I never look back and will never give up. I believe in working hard, staying motivated and treating every day as a chance to learn something new."
Contact Werner Brand on 083 666 6758 or email him at [email protected]