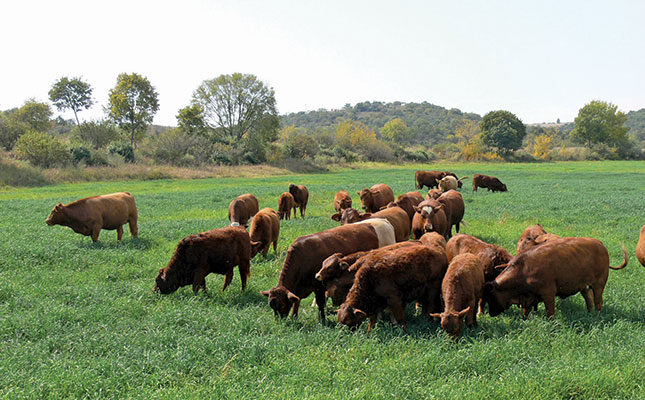 "Beefmaster genetics remove much of the guesswork for a cattle farmer. Whether for stud or commercial, Beefmaster breeders breed cattle for cattlemen." So says Tony Spolidoro of Spolidoro Beefmaster.
Spolidoro has been involved with Beefmaster since 2001, when he established a herd on a portion of his farm off New Thorndale Road near Magaliesburg in North West.
He has no formal training in animal husbandry, only an enquiring mind and a keen curiosity about the subject. In a sense, this has been an advantage: it has freed him from the restrictions of conventional science, enabling him to keep an open mind, make observations and draw his own conclusions.
READ The Hugenoot makes its mark in the Waterberg
Over the years, imported semen and Lasater genetics have boosted the Brahman influence in his herd.
"Commercial cattle farmers recently started buying some of the most expensive bulls and females at Beefmaster auctions. This has increased the demand for high-quality breeding animals, leading to intense competition among stud breeders to offer top-quality bulls," he says.
Functional efficiency
A cow's daily feed intake, expressed as kilogram dry matter, is directly proportional to her metabolic weight, Spolidoro explains. In his herd, with the average cow weighing 500kg, the long-term, average 205-day calf weaning weight (both sexes) is 265kg, or 53% of the cow's weight.
"Obviously, a 500kg cow that weans a 250kg calf [50% of her body weight] is more functionally efficient and productive than a 650kg cow weaning a 259kg calf [less than 40% of her body weight]," says Spolidoro.
A new bull in the herd every year
"The Beefmaster is an early maturing breed. The capital cost of a bull, a once-off expense, is high. But it's an investment in the future. As a bull can start working at the age of 14 to 16 months, using a new bull each season allows me to bring new genetics into my herd each year," he says.
Putting heifers to the bull at 14 to 16 months to calve at around 24 months also exerts strong selective pressure on the females in his herd and eliminates guessing what type to introduce to the herd.
READ Performance testing: not only for stud farmers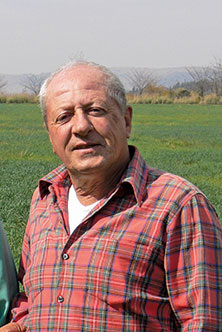 The cows that the heifers replace are sold, contributing a steady income stream. In this way, by selecting the best, Spolidoro has steadily built up a high-class Beefmaster genetic base.
The feed utilisation of the cow-calf combination in the herd has also improved significantly. In 2017, the breeding cow herd's average weight at weaning was 509kg while the calves, born at an average intercalving period of 371 days, weaned at an average weight of 265kg. Some cows had an intercalving period of between 344 days and 361 days over 10 calves.
Spolidoro's view on the value of artificial insemination in a beef herd, whether stud or commercial, is straightforward: "It enables a cattle farmer to introduce new genetics to his herd while at the same time reducing the number of bulls on his farm."
Confirmed by DNA testing, Lasater genetics (the original Beefmaster genetics) retain the undiluted Brahman influence in the Spolidoro herd. They maximise the benefits of hybrid vigour while retaining type, milk, weaning, short intercalving periods, temperament, hardiness and fertility.
Spolidoro considers dam lines as crucial as sires in breeding top bulls, and acknowledges Trevor Stretton of Creative Beefmasters in the Eastern Cape for his patience and expertise.
The Zimbabwe connection
The late Peter Bosch and his son Mike brought the first Beefmaster cattle into South Africa in the early 1980s from Zimbabwe, relocating their entire farming operation and Boschveld Beefmaster stud herd to Mantsole Ranch south of Bela-Bela. However, the strong Beefmaster presence persists in Zimbabwe to this day.
"Africa needs the Brahman's hardiness in its cattle. Poorly adapted animals just don't survive African conditions," says Spolidoro.
Many Beefmaster stud breeders breed according to the feedback they receive from their buyers. This leads to close cooperation between the stud breeding and the commercial beef-producing sectors.
The commercial industry tells the stud industry what it needs, putting pressure on stud breeders to breed accordingly.
As Spolidoro puts it: "Africa will never starve as long as these sectors cooperate to their mutual benefit.
"The Beefmaster combines fertility, early maturity, milk production, excellent temperament, hardiness, good udders and teats, efficient feed conversion and a low calf birthweight for easy calving."
A noteworthy example of this level of cooperation is the improvement in the herd of the originally commercial Bovelder-type cattle of David Kunene and Roger Wood of Northern Farm, just outside Johannesburg. The herd has used Spolidoro Beefmaster bulls and several Bovelder bulls from 2013.
The Beefmaster-sired bull calves, visibly of Beefmaster type, were then used with great success on Bonsmara-type cows, adding at least 20kg to 30kg to the average weaning weight of the first-cross progeny.
Consequently, the original Bovelder herd was eventually bred to Beefmaster, leading to an overwhelming demand for females.
Herd performance
The grazing resource on the Spolidoro Beefmaster farm, situated on the edge of the Highveld, is based on mixed Smuts finger grass pasture, oats grown no-till along the perennial Swartspruit, and Eragrostis hay in winter.
Water is drawn from the river and natural springs, and the mean annual rainfall is about 650mm.
READ What to look for when selecting a bull
Even so, heifers calve at 24 months and every female failing to reconceive after the last calf is slaughtered.
Maintained for 16 years, this ruthless selection pressure has led to females of such a high quality that Spolidoro can now confidently sell open cows and heifers.
"Figures support every animal we sell," he explains.
"We never overfeed to hide faults. Whether for breeding or for fattening, it's the only way to go.
"When an animal is offered without figures, it means the breeder didn't record its performance, so has no idea what it can or cannot do. "Alternatively, it means that he might have recorded the figures, but they weren't up to a standard he would care to reveal.
"Why sell a bull at two years old? An experienced buyer will seldom ask this question, but the answer is simple: he buys a bull, gets good results, and comes back to buy again.
"In any case, a Beefmaster bull sold on auction is backed by compulsory DNA data, the only credible way to confirm its identity and pedigree."
Phone Tony Spolidoro on 011 615 4841, or email him at
[email protected].