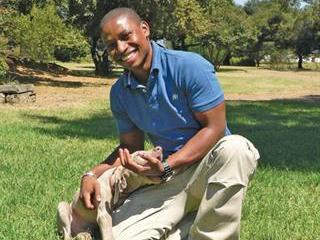 When Puleng Ndlovu began farming in Leeuwfontein just outside Nigel, Gauteng, in 2008, he was doubtful about succeeding in an industry he knew nothing about. Four years later, he attributes his progress to talking to the right people and absorbing as much information as possible.
After completing matric in 2002, Puleng studied marketing for a brief period before going on to obtain his private pilot's licence. Then, while he was studying for his commercial pilot's licence, a farming opportunity presented itself – and it was an offer hard to refuse! His father, Kenneth, had acquired a 623ha farm through the Department of Rural Development and Land Reform's Land Redistribution for Agricultural Development (LRAD) programme in 2008, and registered the farm under a trust for Puleng and his sister, Louisa Mkhatshwa.
Kenneth then helped Puleng buy 100 Brangus heifers and two bulls from Pieter Swart, a Brangus breeder from Standerton in Mpumalanga. Puleng first met Pieter through the DRDLR in 2008, and an excellent working relationship has developed between them. "He's now my main mentor," Puleng explains.

"He is more than willing to help. I could call him at two in the morning and he'd give me advice right there and then. My other mentor is Patrick Sekwatlakwatla from the Obaro Emerging Farmer Feedlot Project." These mentors have helped Puleng achieve excellent results. His herd has grown from the 100 heifers and two bulls to 350 breeding cows and six bulls, as well as 10 Nguni cattle.
Bulls vs artificial insemination
In trying to build up his herd, Puleng soon realised that the two bulls could not handle so many heifers, so he began using artificial insemination. While it proved effective, he found it too labour-intensive. "I employ five permanent workers who stay with their families on the farm," he explains. "With only the five of us working on the farm, it wasn't practical for such a large herd. So we decided to get more bulls."
Puleng runs a single breeding season, which starts in early January and continues to the end of March and sometimes into April. "Ideally the bulls must be run with the cows in a short breeding season not longer than three months," he says. "But I extend it if pregnancy tests, done with Pieter's help, show that the bulls can't cover all the cows in three months. I don't overwork the bulls, though."
Because of this extended breeding season, the calving season sometimes extends from September until January the next year. As Puleng produces weaners for the feedlot market, his goal is a 100% calving rate. Currently, it stands between 75% and 80%. If a cow does not produce a calf every year, she is culled.
"Brangus cows are good mothers," he says. "The calves are usually medium-sized at birth, so the cows calve easily." He also gives them all the help they need. If, for example, the calving season goes into winter, he provides protein lick to keep the cows in good condition and able to supply milk.
The calves are weaned at six months at an average weight of 160kg for the heifers and 200kg for the bull calves, and are ready for the feedlot market at between 200kg and 300kg. Puleng stresses the need to keep up with market information and beef prices when producing weaners. "Knowing when to sell is very important. I get my marketing tips from Pieter, who advises me when and where to sell. The weaners are marketed through auctions in Standerton for the feedlot market."
Managing grazing
The area's rainfall averages about 750mm per year, so grazing is generally good. Over 600ha of the farm consists of Smuts finger grass pastures, which are used for grazing. In winter, Puleng supplements this grazing with a protein and salt lick.
"We've sub-divided the farm into 15 camps," he explains. "The female herd, which we've separated into two sub-herds, is rotated each month between the camps."
As the herd is run on pastures, Puleng stresses the importance of looking after the grazing and taking care not to overgraze.
A 7,3ha portion of the farm pasture is reserved for cutting and baling hay as winter reserve. Puleng fertilises this area to improve the nutrient level before the September rain, and cuts the grass between January and March.
The high rainfall makes regular dipping necessary, especially in summer when there are plenty of ticks. "We vaccinate the cattle against various diseases including redwater, which is prevalent in this area," explains Puleng. "We seldom get lumpy skin disease, but vaccinate against it anyway just to be on the safe side."
Planning for the future
Because the grass turns yellow and is low on nutrients in winter, Puleng buys in feed to supplement it. "This is heavy on my pocket," he laments. "So my neighbour Johnny da Costa from Manjoh Ranch suggested that I produce my own maize as feed.
"I have a good relationship with the Da Costas, who give me tips from time to time."
Taking his advice, Puleng now plans to use 290ha of his farm to grow yellow maize for forage, and start a cattle and sheep feedlot. Fortunately, the farm's previous owner ran a feedlot, and most of the infrastructure and equipment has remained. This includes a hammer mill and a feed mixer. The interaction between the two farmers shows what a difference good advice and mentoring can make to small-scale farmers – and why Puleng regards it as critical to his success.
Contact Puleng Ndlovu on 082 414 7854.