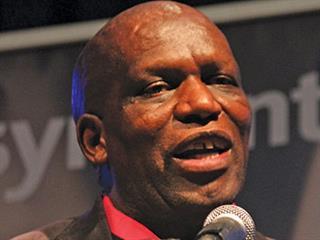 How do you see your mandate as minister of agriculture? What does President Zuma expect of you in this position?
One of the key issues that we need to look at is food security and to promote agriculture to make sure that production is improved. No one in South Africa should have to go hungry. We must also establish and support more smallholder farmers so that they can become sustainable.
My hope is to be able to make AgriSA and other farmers' unions partner with government in mentoring new farmers so that no new farmers fail due to a lack of expertise. As government, we need to engage more with all agriculture stakeholders so that we can get buy-in from commercial farmers and agribusinesses for the agriculture department's programmes. We will also look at ways in which the department can assist farmers where they experience challenges in entering global markets.
As government, we also need to invest in more research and development that will enable farmers to mitigate the impacts of climate change on food production. We need to be able to continue producing enough affordable food despite climate-related changes. We cannot continue doing things as we always have. We cannot allow production to decline, so we have to find ways to adapt.
Former agriculture minister, Tina Joemat-Pettersson, had a strong focus on food security. Where will the focus be during your term?
Food security will remain one of the main focus areas. The department will also place much focus on promoting the issue that South Africa should buy locally. Without being against imports, it's a shame that we buy imported chicken in local supermarkets while our own poultry industry is struggling.
We need to determine what government can do to ensure that we do not import large quantities of food that can be produced locally. As government, we need to engage the local retail sector to encourage supermarkets to increase their local procurement. We cannot allow the dumping of cheap products on our market to kill our own agricultural industry. In terms of exports, Africa must become our main focus point.
As minister in this portfolio, who do you see as your constituency?
Organised business, which includes agribusinesses and commercial farmers, as well as emerging and smallholder farmers. It's very important that we, as government, win the trust of commercial farmers because we want their help in reaching out to new and smallholder farmers. If we can give subsistence and smallholder farmers access to new technologies and the best production methods we will also be able to improve their productivity.
I also believe that stronger partnerships between commercial and emergent farmers will promote the establishment of more harmonious and prosperous rural areas. It concerns me when I hear about violent attacks on farmers.
Our view is that if we can build trust and connections between commercial and emerging farmers, we will create a lot of goodwill towards commercial farmers. Commercial farmers will be regarded as those who feed the nation and this will change the negative attitude that some people harbour towards farmers. This will in turn contribute to building secure rural communities.
You have 20 years of experience with the National Union of Mineworkers (NUM). How will your background in trade unions help you as minister?
One of the key lessons I take from my time at NUM is that you do not have to be friends with the people you negotiate with; you should only aim to find a common objective. You don't negotiate with employers because you agree with them. You negotiate because you know that their success is your (the workers') success.
I believe in dialogue, and that true and open dialogue between government, employers and workers can break down prejudices and help build relationships and mutually beneficial partnerships between government and the farming community.
Have you had any exposure or interest in the agricultural sector prior to your appointment?
I grew up in a rural area and I farm on a small scale. I have about 19 head of Nguni cattle and some sheep. I like Nguni because I believe this breed is well adapted to SA farming conditions. But even though I do not have an extensive farming background, the little exposure I have had helps me to understand some of the problems that farmers face.

You have previously been outspoken on land reform – what is your current view?
It doesn't make sense to give productive farms to people who are deserving without also equipping them with the skills and resources they need to make a success of those farms. This is why we as government want to partner with successful commercial farmers so that they can serve as mentors, making sure that farms transferred as part of transformation programmes do not become unproductive under the new ownership.
In terms of the land reform model, the ANC has no policy that says land must be taken away (expropriated without compensation). "We believe that people whose land is being taken for transformation should be compensated. I don't believe you can win by giving to some what you have taken away from others without compensating them. This will only create negativity in the global market towards our country and do nothing to promote investment.
Farmers must come forward with their views on this [land reform] and discuss their concerns as we deal with transformation. We need maximum buy-in from the industry for our transformation programmes to succeed and to achieve this, we (the department and the sector) need to communicate.
Various agricultural sector stakeholders, specifically farmer unions, have expressed the wish to continue a co-operative relationship with your department. Have you met with them, or do you have plans to do so in the future?
I have already met with AgriSA and I will reach out to all the different farmers' unions and commodity organisation. I realise that the different groupings might represent diverse interests, but I think we should focus on the interests shared by all the groups – those that will help improve the productivity of the whole sector and the quality of what we produce as well as help grow the sector.
The primary sector currently contributes only about 2,7% to South Africa's total GDP. I think we can double this and create jobs if we work towards a shared goal.
There are currently a few specific concerns in the industry. These include uncertainty over the resumption of trade after FMD clearance, and export frustrations for citrus farmers due to the EU's approach to citrus black spot.
The feeling is that the industry needs support from the ministry in the lobbying for free and fair trade.
Will you be fulfilling this kind of role?
I'll be having a meeting with the minister of trade and industry within the next few weeks, and make sure that problems related to international trade affecting farmers are dealt with. Our aim [as government] must be to ensure that any bottlenecks that exist in terms of trade are dealt with.
Do you support the establishment of a collective bargaining council for the negotiation of farm worker wages?
As minister of agriculture, it's not my area to get involved with wage negotiations, but if a conflict arises that can have an impact on production, the department should assist in resolving it. I hope that the labour department will investigate the possibility of establishing a negotiating chamber [for wages in the agriculture sector].
One reason why I would support a wage negotiation platform is because I believe when there's no central bargaining process, there is no platform for interaction [between farmers, workers and government].
For example, farmers currently have no platform from which to negotiate with the minister of labour when it comes to revising the sectorial determination for farm workers. Also, a platform that makes transparent wage negotiations possible will help create trust between employers and employees. I must emphasise, however, that I will not put the formation of such a platform as a condition to farmers; it is only my advice to them.

At the beginning of her term, the previous minister set out to review all agricultural legislation, some of which she described as hopelessly outdated. However, this process was left incomplete. Will you continue this legislative review process and will it be dealt with as a matter or priority?
We will look at all agricultural legislation, but we want to make sure that whatever we, as government, chose to do or decide is informed by input received from all the stakeholders [in the agriculture sector]. I don't want farmers to ever feel struck with the fear of uncertainty and not knowing. Stability and certainty in the industry are key to ensure that we improve productivity. That is why whatever we do as government will be on the basis of dialogue between us and the sector.

For more information, phone ministerial spokesperson Palesa Mokomele on 012 319 7876 or 021 467 4502. Alternatively, email [email protected].