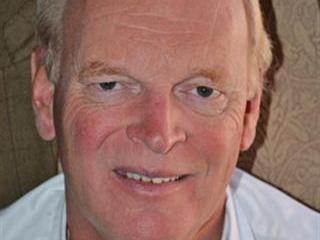 What is your role at the embassy?
I promote trade in agricultural products between countries – the export of agricultural products from the Netherlands to South Africa and vice versa. The Netherlands is the second largest importer of South African fruit. I also promote sustainable food production.
What types of food is imported from the Netherlands?
Mainly processed food, such as cheese, is exported to South Africa. There is also a bit of meat, such as salami and wors (sausage), but the Netherlands doesn't export much food to SA at all.
What is your opinion of the SA ostrich industry?
It is an organised industry. The Netherlands used to import a lot of ostrich meat. It is very unfortunate that avian influenza struck the ostrich industry as it isn't competing with any Dutch industries because there is no ostrich farming in the Netherlands. Avian influenza hit the Netherlands' poultry industry two or three years ago. These things come and go. The industry will recover.
Which South African fruit is exported to the Netherlands?
Citrus, table grapes, apples and pears, avocadoes and mangoes. The Netherlands is too cold to produce citrus and there is also no table grape production.
And cut flowers?
There is not much demand for South African flowers. The carbon footprint of the flowers – to fly the flowers out – is too big. Kenyan flowers are preferred.
How important is sustainably produced food to the Dutch?
There is a strong focus from the Dutch government on making the production cycle of food more sustainable. The government is linking this focus back to the food that is imported into the country. The Dutch consumer, retailer and importer require that food is produced sustainably.
What do you mean by sustainable production?
Food should be produced in a socially sustainable way – which refers to things such as wages and decent working conditions. There's also a need to keep the environment intact during the production process. There should, for example, be no soil depletion, the production process shouldn't pollute the air and the surrounding vegetation should be preserved. Consumers also want to know that certain chemicals are not present in the food.
There is a premium on sustainably produced food and even organic food. Did the current financial troubles in Europe have an impact on consumers' preference for these types of food?
I don't think so. We've seen a growth in demand for sustainably produced food over the last five years. An example is milk. There's not enough milk produced along sustainable lines to meet the demand. The Dutch market for organic food is almost endless. I would say Dutch consumers are still prepared to pay a premium for organic or sustainably produced food. The biggest supermarket retail chain in the Netherlands, Albert Heijn, which has a 27% market share, decided that its house brands must all be sustainably produced by 2020. It must, then, source all these products from sustainable producers.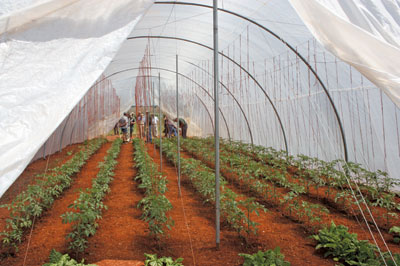 A tunnel farm near Bapsfontein. Glass houses are used in the Netherlands due to the country's cold winters and snow. Photo by: Lindi van Rooyen
How does a supermarket choose a sustainable producer?
When doing the sourcing, the supermarket will measure the produce against its own set criteria. There is a movement where supermarkets source directly from farmers, but there is no universal criteria for sustainable production among supermarket chains.
The Dutch government was a key partner at a recent undercover farming exhibition held in South Africa. How important is undercover farming to the Dutch?
Undercover horticulture is the answer to the world's food security problems and also a way of mitigating climate change as it uses less water. Temperature and radiation is also controlled and the plant gets its nutrients fed directly to it. There is minimal wastage and it is a controlled way of growing produce. The Dutch have more than 100 years' experience in undercover farming. Initially it was called raamboerderij (frame farming) because the crops were planted on frames.
In Israel, undercover farming is necessary due to the shortage of water. Why is it used in the Netherlands?
Whereas the Israelis have to keep water in, Dutch farmers need to keep water out. Dutch farmers struggle with fungi and rot due to high rainfall. In addition, undercover farming makes it possible to produce in winter.
Do you think undercover farming is a viable option for South Africa?
We recently brought 20 undercover farming experts to South Africa. It is a sector that is still developing in South Africa. We are trying to grow produce in greenhouses that would be difficult to grow under prevailing conditions. There is no need for glass houses in coastal areas like in the Netherlands because it isn't freezing cold there.
How is the Netherlands helping?
The Netherlands stopped direct trade aid to South Africa because it is a middle-income country and not a poor one anymore.
However, we are in the process of setting up an undercover horticulture training centre in Philippi in Cape Town. This is a new thing for small-scale farmers. We believe that food for the future will come from undercover farming.
Contact Prof Nico Visser on 012 425 4570 or email [email protected]