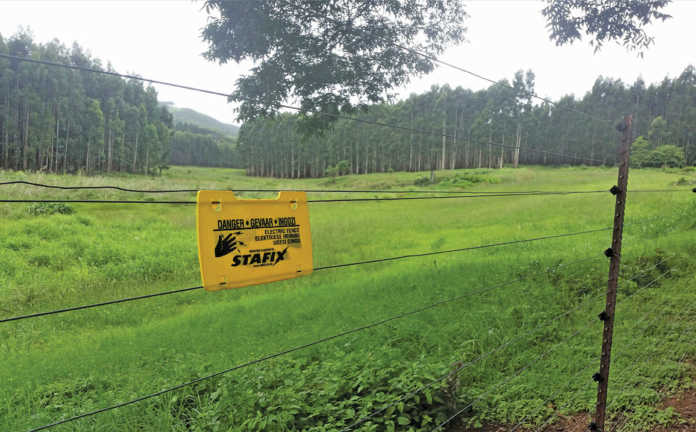 South Africa's agriculture sector continues to be threatened by a volatile security situation, with the total costs related to agricultural crime in 2017 estimated at R7,7 billion and a further economic output loss to the South African economy of R18,9 billion.
The Institute for Race Relations (IRR) argues that crime on farms, whether directed at property or people, is a major strategic issue for the agriculture sector.
READ The safety of our farming communities
"Not only does it impose very real costs on a sector that's under permanent duress, but it's a major disincentive to choosing a career in farming. If unchecked, this could prove detrimental to the long-term viability of the sector," says IRR project manager Terence Corrigan.
He adds that farm dwellers face a major threat, with official data showing that between 2012/2013 and 2017/2018 there were 353 farm murders.
"But less remarked on is what that means for South Africa and the farming economy. Concerns about personal safety and the security of one's assets will drive people away from the industry and dissuade others from entering it. The impact, particularly on smaller operators, will be corrosive over time. With agriculture's contribution to the overall national value chain accounting for between 10% and 12% of GDP, this is something that South Africa can ill afford."
Non-reporting
But despite the alarming numbers depicted in studies commissioned by organised agriculture, crime continues to flourish, with nearly half of farmers stating that they no longer report the crimes due to inefficiency at police stations.
Kobus Visser, Agri SA's director of rural safety and provincial affairs, argues that the problem is far wider, starting on a local level at police stations and going to the heart of government policy and sentiment around farm murders.
READ Farm security: crucial tips to improve safety
"On the farmers' side, few have a good working relationship with the police and participate in local priority meetings. Furthermore, fewer than half of the farmers are in a farming community that has an active farm watch system, and only 36,2% implement the Agri SA Farm Access Protocol to manage access to their farms."
Agri SA has made formal recommendations to Parliament to remedy rural crime. Visser says that reviving the reservist system would be one of the main priority areas.
"To make a significant impact on the crime situation, a well-functioning reservist system, which is the backbone of the Rural Safety Strategy, should be fully implemented and capacitated with the necessary resources to assist the police. Reservists should be supported with the necessary training, and the recruitment process must be enhanced.
"Unfortunately, up until now it has been problematic for farmers to train as reservists as it requires six weeks away from the farm. We're now looking at breaking the modules up so that training can take place for a week at a time over a six-month period to make it more feasible."
Visser adds that farmers should also become more involved in their local priority committees and establish farm watch systems in collaboration with the local police.
Security evaluation questions – are you prepared?
A questionnaire compiled by the rural safety organisation Oorgrense Veiligheid provides insight into possible weaknesses or blind spots in your on-farm security. Answering 'no' to any of these questions indicates a heightened risk factor:
 Do you keep abreast of criminal activity in your district and on your farm?
Do you check for warning signs of crime and have you attended a course on recognising these?
Is there an organised farm watch in your area, and are you a member?
Do you check your yard and home for warning signs when you return from town or church?
Do you keep proper records of your workers' details, with photographs and copies of ID documents?
Do you have a safety plan for your home and family?
Are your sleeping quarters separated from the rest of the house by a security gate?
Do you have a CCTV system that allows you to scout your yard without exiting your house?
Are your firearms readily accessible at night, and not locked away in a difficult-to-reach safe?
Are you a member of a WhatsApp safety group?
Do you have a two-way radio with battery backup for emergency communication?
Are all windows covered with burglar proofing, regardless of whether or not they can open?
Is your homestead protected by an electric fence connected to an alarm system?
Does at least one dog sleep indoors at night?
Answering 'yes' to any of these questions indicates a heightened risk factor:
Do you pay your workers in cash?
Is it clear to an observer that you have cash on hand? For example, do you have a roadside stall or sell livestock for cash?
Have you had any labour disputes during the preceding 24 months?
Are you and/or your spouse over 60 years of age?
Do you exit your home at night to investigate barking dogs?
Do you leave the gate to your farmstead open during the day?
Do you leave gardening and other tools outside and unlocked during the night?
Being proactive and securing the farm
Chris van Zyl, assistant general manager of TAU SA, stresses the need to take proper precautions around the farm. He explains that the most important factor in preventing an armed attack, stock theft or arson is to stay informed about developing threats.
"Make use of effective technology to provide the earliest possible warning of developing situations that are threatening. In this regard, optical observation capable of both daylight and night-time operation, electronic fences and invisible beams, all connected to alarm systems, are extremely helpful.
READ TAU SA in the fight against farm murders
"Most fatal situations occur when the farmer and his family are surprised when they least expect it. Being woken up by perpetrators who have already succeeded in penetrating without detection into the bedroom whilst the family is asleep is to be prevented at all cost."
Van Zyl advises that technology be implemented as part of a wider strategy to secure the farm, particularly at night and weekends when there is less activity on the farm.
Predictable routines and having to stop and leave the vehicle to open a gate, for example, make one vulnerable to crime. When drawing cash or visiting the bank, the routine should also be varied.
The homestead should be secured internally as well as externally. Particular attention should be paid to the passages and doorways leading to sleeping quarters. Dogs, both inside and outside, may also prove to be an effective deterrent.
Van Zyl recommends creating a 'safe room' in the house where firearms, ammunition, a communication device, a first aid kit and water are kept.
"Hold regular drills to ensure that all family members and other farm dwellers know where to go and what to do in emergencies. They should also be sensitised to be observant and report out-of-the-ordinary movements, strangers or conduct."
Firearms and alarms
Van Zyl advises that members of the household take part in regular shooting practice.
"Such exercises should also be conducted in bad light, and shooting from a moving vehicle and in confined spaces be practised, as these could represent situations that may be expected."
READ SA's licensing 'debacle' leaves firearm owners stranded
Van Zyl stresses that a communication system should be in place to sound the alarm to as many people as possible. WhatsApp groups and radio communication are essential is this regard.
Finally, he advises farmers to familiarise themselves with the conditions under which a civilian arrest may be made.
Email Kobus Visser at [email protected], or Chris van Zyl at [email protected].