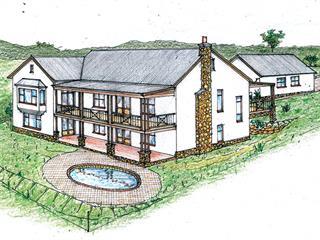 Dear Jonno
My wife and I want to build a retirement home on a 810m2 plot we bought recently in an estate in the Midlands. It must be a 'Natal veranda' farm-style house.
Our problem is that, coming from a farm, we are used to a single-storey house where space is not restricted. Now we have to fit our house onto a property measuring 19,5m x 41m, leaving 2m on each side. The house can therefore be only 15,5m wide.
This is a north-facing property that slopes at 7° from the road at the back down to a beautiful view of a dam in the front, with no houses between us and the dam. All access is from the road.
We would like a large open-plan living area leading onto a wide veranda with a braai. It must have a fireplace in the lounge/dining room and a kitchen with a tucked-away scullery and a separate laundry/utility room. The main bedroom should be en suite, with a study and a toilet on one level. This way, we will live on one floor and keep the other level closed for when we have visitors.
Upstairs, there should be three bedrooms, a bathroom and a central lounge/playroom.
The house must also have a double garage, a store room for camping gear and so forth, and a little workshop.
Kind regards,
Peter Adam
Greetings Peter
Thanks for the phone call. Attached is the sketch layout for the double-storey 'Natal veranda' home. The house and outbuilding are placed so that the driveway entrance and exit are practical.
From the garage, the house steps down about 1m, so the cutting into the land-slope is also about 1m, as the development committee wants minimum site excavations.
At ground floor level are your suggested practical retirement facilities. The basement, however, needs to support the floor above, and so has more room area. That extra area labelled 'possible extension' is subject to further re-arrangement to suit you. Shown too is a chair-hoist between the two floors. The extra basement walls to create additional space are only an extra few thousand bricks.
Kind regards, Jonno