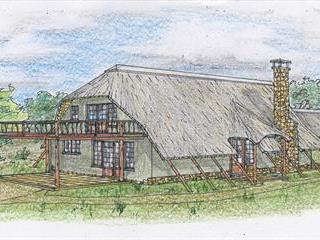 After many discussions, the A-frame layout presented here was conceptualised. While the idea for the A-frame house came from one of my articles published in Farmer's Weekly some years ago, it needed considerable modifications to suit the Thompsons' particular requirements.
These alterations were discussed at length, and emphasise the value of regular communication between architect and client.
An example of a required alteration is the length of the side walls.
While A-frame side walls are usually 1,2m in height, the Thompsons required side walls at least 1,8m in height, allowing for more standing room as well as creating a larger attic room area.
Another feature is the porch/parking area that could serve as a temporary carport while construction is in progress, and be converted thereafter into a monkey-proof hot-house for growing herbs and vegetables.
The deck over the porch could serve as a breakfast area, where diners could enjoy the morning sun. The 'view porch' at the opposite end features a braai pit close at hand and would be ideal for sundowners.