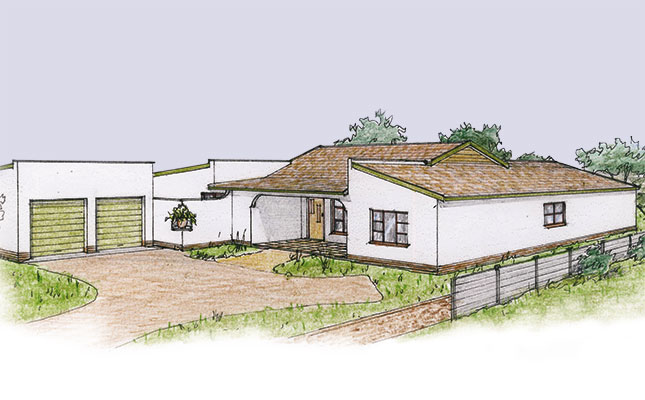 Dear Jonno
Could you please help us with ideas on an ideal beach house that is affordable and easy to maintain? Our plot is 600m2 and has two residential houses on either side. It has a natural green belt on the other side and only one street. There is no view of the sea. We would like our home to have four bedrooms – no en suites, however.
We would also like two bathrooms, a kitchen, and a dining and lounge area – which should all be open plan. Our home must also have a full-length undercover patio and built-in braai. We would like the house to face the green belt, meaning the back should be on the side of the street.
I hope this information will be enough and look forward to your design.
Kind regards, Roslyn
Dear Roslyn
Thanks for the request and detailed description of your beach home requirements. The layout I have provided is practical and
cost-effective to build. I've shown the roofing as that of mono-pitched on either side of a dual pitching over the central living area. This roof styling lends itself to stage-building the complete home, where the wing containing the third and fourth bedroom can be added as finances become available.
As there are adjacent houses on the neighbouring sites, I've shown the windows to the bedrooms facing the road and green belt side, for maximum privacy. The third bedroom can have windows into the courtyard if required. The garage can be at the back and the house flipped back to front. The roof can also be changed to one of a dozen or more styles – you decide.
Kind regards, Jonno