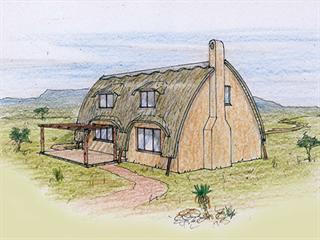 Dear Jonno
I intend building a three-bedroom house with a dining-room/lounge. It should also have a veranda with a small storeroom. The length of the house should not exceed 8m and the width should be about 5m. Could you kindly draw up a plan for me, excluding a toilet and kitchen? The house should have a gable roof covered with 4,2m inverted box rib (IBR) roofing sheets. 
Rodgers Sengweni Gumbo
Dear Rodgers
Thanks for the rough sketch and your basic requirements. Getting three bedrooms into 42m2 took some serious thought, but I managed to do it. The storeroom in plan 'A' can be converted to a toilet/shower with an entrance from the outside. You wanted a gable end roof over the unit as shown in roof 'A'. I've also shown how, by adding a 'mansard' roof as indicated in roof 'B' as an attic, the layout can be modified to accommodate two bedrooms upstairs.
This will allow for a proper lounge and kitchen on the ground floor as indicated in plan 'B'. Should you or any of our readers wish to create something more aesthetically pleasing, why not consider the perspective view above? This shows how plan 'B' can be built using the old 'trekboer' cottage concept, with sapling poles and a thatched roof, commonly referred to as 'kapstyl' or A-frame, but completely modernised.
Jonno