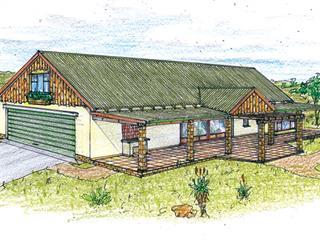 Would you please design for me a layout for a retirement cottage? I have attached a rough sketch of what I have in mind and have listed a few requirements below.
The house is to be built with blocks made on-site. This should save costs – what are your thoughts in this regard?;
Corrugated iron roof for appearance and cost-saving;
Steeply pitched roof for loft space;
Garage leading directly into kitchen/lounge/dining-room;
Two bedrooms with en-suite bathrooms.
I look forward to seeing your layout, and any advice you can give me.
Kind regards
Michael
Dear Michael,
Thank you for the informative sketch and your written requirements. Your measurements of the cottage include the external walls. However, if you deduct the thickness of the walls both internally and externally, you will be left with a total room width
of only 5,6m. This, for two bedrooms, would give a width of just 2,8m for each bedroom – barely enough space for cupboards, beds and other furnishings.
Therefore, in the sketch included herewith, I've increased the external suggested measurements by the wall thicknesses
and added a bay window to the main bedroom, to provide it with a little extra space. Also as the living-room is quite small, I've shown the dining table to be part of the kitchen fitments. Making the building blocks on-site rather than using ready-made blocks is likely to save you money, but this depends on the cost of the ready-made blocks.
The steeply pitched roof will give you a bonus area, and this can extend the full length of the cottage. As for the style and
trim of the finished cottage, I've shown some decorative finishes that transform what could be a very plain house into an aesthetically pleasing home. I'll wait to hear from you.
Best regards
Jonno