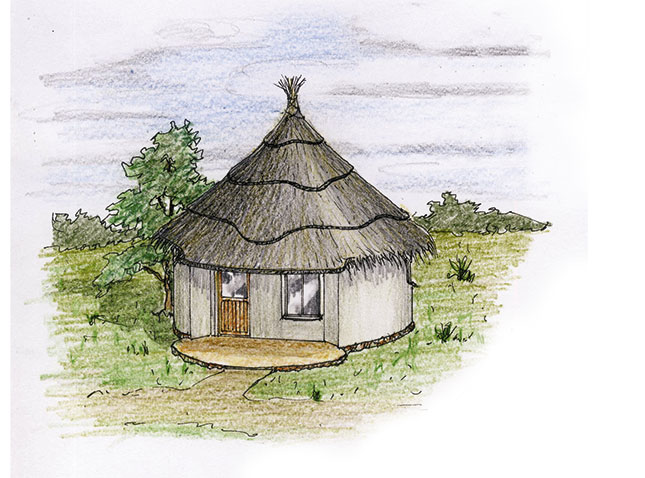 Dear Jonno
Thank you for the advice you gave me during our phone call. The existing site is a bush camp at a nature reserve in the Lowveld, comprising thatched huts and a main building with a lounge, kitchen and so forth. We would like a brilliant plan to build a new rondavel with cement blocks under thatch, to make the most efficient use of the internal space. It should include a bathroom with a shower (no door) and separate toilet.
The floor plan is what stumps us because of the circular shape. The rondavel must accommodate a king-size bed. The existing huts have an internal diameter of 6,2m and the internal wall height is 2,4m. The bathroom arrangement could include an outdoor shower as an option but at this stage, we are not convinced that this would be a good idea. Finishes should be as simple as possible – screed walls and floor with no tiles.
We would like the hut to have discreet shelving and cupboard space, and the windows to be fitted with fly/mosquito screen. We would prefer not to fit cupboard doors if shelving is not visible from the entrance. Once we build the new hut, we plan on gutting the other two huts to replace the layout with what you deem best. We use gas geysers for water heating and solar for power.
The camp is situated on an elevated position overlooking the river, with natural bush surroundings and plenty of rock.
Kind regards,
Luci and David
Dear Luci and David
Thanks for the sketch of your existing rondavels, together with your concerns that they are not functional enough for your liking.
As I mentioned on then phone, the inside finishes and fixtures are cosmetic and subject to your preferences. What is important is the structural arrangement. The internal walls are straight and can accommodate most regular fittings.
The curved gap behind the bed in Plan A can be a built-up shelf. You said no door to the bathroom was required, but the gap is there, just in case. Since you are demolishing the existing rondavels, it is important that you build a hut with some aesthetic character. I've given you one version and can render half-a-dozen more, particularly by way of different thatching styles. The two floor layouts are food for thought.
Best regards,
Jonno
This article was originally published in the 4 April 2014 issue of Farmer's Weekly.