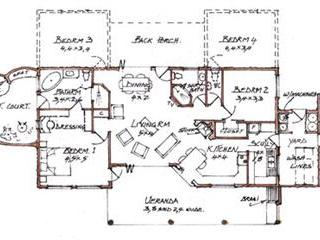 Dear Jonno,
Here is my dream home to be built on a family farm in Aliwal North. As the attached photographs show, it's based on a stone house we stayed in while visiting the Karoo National Park. The style is rustic with home comforts such as gas, hot water, a nice big metal fireplace and solar power for the pool pump (we have a small splash pool for February heatwaves).
There are two bedrooms with a sleeper couch in the lounge. I love the shower and the simple kitchen in the original, and the braai area is perfect for summer and winter. Material from the land can be used to build this house, and the garden will comprise only indigenous plants and trees. We have the idea, but how much am I in for? I would so love to make my dream come true.
Can you advise me and produce a plan of this house?
Thanking you, Helen
Hi Helen,
Thanks for your design guidelines and the pictures. By the looks of the building and the construction, I'd say that there were no official plans. In the sketch I've drawn a layout for 'now and the future'. Virtually every farmhouse I've come across over the years has been added onto over time, so here is a layout with easy add-ons for the future.
You say you want to build the superstructure of the house with what's locally available. This is quite possible, but always consider modern building standards and durability over time. So for instance, instead of earth and mortar between the rock work, just add cement to river sand for building safety and longevity.
The rock work in the sketch is what I call 'random rock work.' The better rocks are placed from ground level, forming a plinth, while the not-so-good-looking rocks are plastered over with the cement-straw mixture you've seen and would like included. The roof can be of poles with reed overlay, but should be treated against wood borer. The roof cladding over the reeds should be durable and waterproof.
There are many options, including metal/fibreglass and plastic sheeting, with an aesthetic top cover to temper the heat and cold. This cover could be wood shingles, slate, pine-bark tiles, terracotta or concrete roof tiles, or a mock-plaster coat over the reed or thatch underlay (ceiling). Let me know what is available and I'll detail the specific applications in the working drawings.
Regards,
Jonno