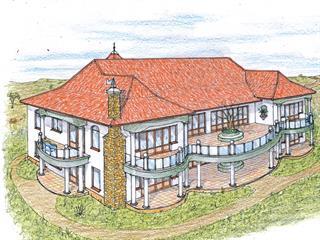 Dear Jonno
Here is an outline of the requirements for my new home:
It must be a double storey house that features a combination of a modern and classic style.
It must have two large lounges. The one downstairs must be sunken and separated from the dining room and the kitchen by one or two steps. This area must be open plan.
We will need a big kitchen with all the modern amenities.
The second lounge must be upstairs and have a big balcony that can accommodate the whole family.
Although a building of this magnitude will require a high roof, aesthetic appeal should not be compromised. A triple volume entrance hall must be incorporated to be used as a reception area for visitors waiting to be ushered into the main lounge.
Other requirements include four garages; a large entertainment area; an office/library; a bar with a balcony for entertainment; and a cold room located on the garage and kitchen side.
There should be eight bedrooms, all en suite.
The main bedroom should be very spacious and have a walk-in cupboard and its own balcony with large aluminium sliding doors. In addition, the room must have a bathroom with a shower and jacuzzi. The second bedroom must also have a balcony.
The verandas should be spacious and the roofs supported by columns. To allow enough light into the house, the aluminium windows should be quite large.
There must also be a cinema for the children in the basement.
Regards
Daddy
Dear Daddy
Here is a perspective of the house, as well as the ground floor and first floor plans. You did ask for large rooms, and the result is a very large home of 860m² excluding outside decks and porches. I also sent through some pictures of styling that would suit the layouts and complement the styling you selected.
As there is much to think about and discuss, please give me a call if you have any queries or alternative proposals. The basement cinema can be placed according to the slope of the land. The staircase next to the lounge area goes up to the first floor. A similar staircase in the same location could go down to the basement cinema. The cinema can be sited off the bottom of the stairs, for example, under the front half of the lounge or under the front half of the dining/pub area.
Best regards
Jonno