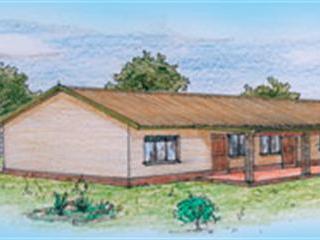 Hi Daniel
Thanks for the invite to northern KwaZulu-Natal. It was a five-hour trip each way, but well worth the time to view the site of your future public accommodation project. Because it is adjacent to a hospital and intended for nurse's accommodation, it required a fresh assessment of the specific requirements. The sketch I have prepared for clients over the years for
similar accommodation, but have been for small families or newly-weds.
With nursing staff, the requirements will chiefly be a place where they can 'lay their bodies down' after a hard day's work. The layout shown here is for two single bedrooms and a small kitchenette for a quick bite to eat. However, I think that by increasing the width of the units from the 6m shown to 7m, there would be more space for the sitting room, and add another 0,5m to the width of each bedroom.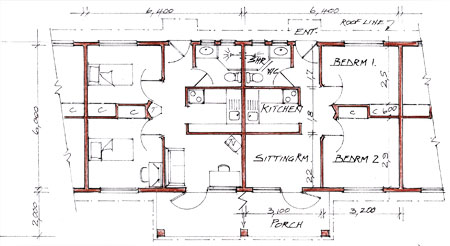 This would allow you to place a double bed or two single beds in each bedroom, the latter arrangement allowing four nurses to share the unit. It also gives you the option of letting the units to people other than the nurses – something worth considering as you tell me you envisage a total of 18 to 20 units. I've shown the finishes to the units to be of face-brickwork. This will reduce upkeep costs significantly. The roof is of profiled metal sheeting, which is available factory painted. This would also reduce upkeep over the long term.
Regards, Jonno