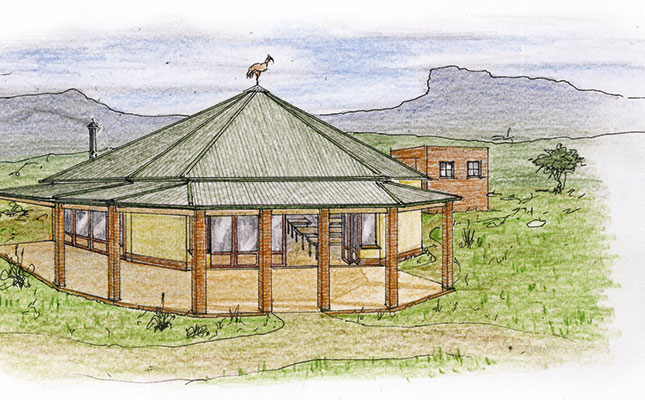 He had seen the design in the Farmer's Weekly of 19 September 2014 and had loved the octagonal layout, so he requested my help with another building of a similar shape. This is to be a wedding and funeral gathering facility for his local community in rural former Transkei. It has to be large enough to accommodate between 50 and 70 people.
Following Lethu's rough layout, I have improvised here and there to cater for any gathering of 64 people or more, seated inside.
In addition to the front veranda that he requested, I've added a folding door on one side to accommodate more people. This will also enable them to enjoy a view of the proceedings inside. The same folding door can be installed on the opposite side with another veranda.
A dance floor and a bar area can be added for weddings. I have also improved on the design for the toilet facilities; as the number of attendees increases, more toilet facilities will be required to comply with health and safety regulations. All in all, this is a facility that can easily be modified to cater for specific occasions and events. I am awaiting further ideas from Lethu on how the needs of his local community can be accommodated.
Regards
Jonno