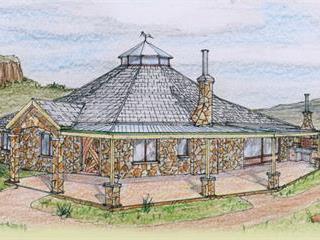 Greetings Jonno
We would like to know what kind of details you need to help us with a house plan design, and how the process works. We are situated in Botswana and the house will be on a small farm of about 17ha.
Slate is available in the area and we would like to use it on the outside of the house. We want an octagonal house and have drawn a rough plan showing just the walls. We would like a three-bedroom house with three-and-a-half bathrooms. It must have an open-plan kitchen with a cold room and a pantry, a living room and bar area.
The house must have a study and a laundry room with a door to a courtyard containing a washing line. There should also be an outside braai area. I hope you can help us.
Regards
Chris & Madelein
Greetings Chris and Madelein
Thanks for the ideas for your new octagonal home – something different. Our telephone chat and your uncertainty about an appropriate roof cover got me thinking. With the diameter of the house being some 16m across, a thatched roof with a 45° pitch would be expensive and create a massive pyramid 8m high. To solve the problem, I've configured a lower 'dog-leg' pitch of 20° and 30° respectively.
The 20° pitch would be over the bedrooms and outer side of the living room/kitchen/study area. The 30° pitch would be up to the skylight apex. The skylight would allow sunlight into the mid-room area. The veranda, at a much lower pitch, can be a metal sheet cover with intermittent translucent sheeting inserts. The room layout is highly functional and those odd angles can be furnished easily. Give me a call to compare ideas.
Jonno