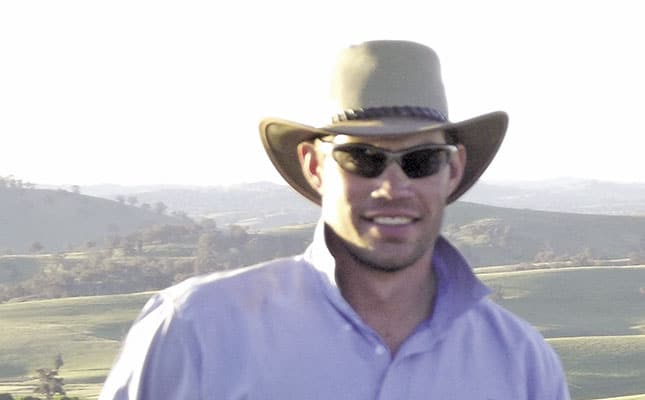 The Grass-Fed Association of South Africa (GFSA) was launched on 14 August at the AGM of the Red Meat Producers' Assocation (RPO) in Bloemfontein. The GFSA is chaired by North West cattle farmer Adrian Cloete, who says that the association has been established as a "second stream", alongside the feedlot industry, for cattle, sheep and goat farmers who wish to produce sustainable, free-range meat.
The GFSA is also planning to enter into discussions with the venison meat industry. This is not the first time that a grass-fed, free-range or veld-raised organisation has attempted to get off the ground in South Africa. Cloete explains what makes the GFSA different, and how it aims to succeed.
READ:Possible EU subsidy cuts could benefit SA agriculture


What is the GFSA and why is there a need for it?
Interest in grass-fed meat has grown exponentially in South Africa and internationally over the past few years, with accelerated consumer demand for well-priced, legitimate, certifiably grass-fed or free-range meat. The media is full of discussions, retailers are asking for it, and, as a supplier of grass-fed beef, I have first-hand experience of the growing demand.
There are also endless requests from farmers countrywide for a registered organisation. What is extremely important from the outset is that grass-fed meat is priced on par with current grain-fed meat prices, as we don't want grass-fed to be regarded as the expensive option, as has happened with many organic products.
The GFSA will represent all farmers who join as members, and it will guarantee the on-farm traceability of our meat to consumers. All meat carrying our label will automatically mean that it's sustainably grass-fed and contains no growth hormones or antibiotics.
Through the GFSA, farmers will start to gain direct access to the market, which is currently not the case in South Africa's meat industry.
How will this be achieved?
We're partnering with abattoirs and deboning plants around the country, and have been making contact with various retailers. We also want to encourage members to get in touch themselves with butchers and retailers in their areas and establish their own contracts, which we'll ratify. The aim is to empower farmers to take charge of their marketing system.
It's not an easy option but it gives them far more control over their product, price and planning than they have at present. The GFSA will guide them in this regard.
Will farmers be paid fair prices for grass-fed meat to make it worth their while?
We'll be sending two representatives to the meat classification workshop on 7 November in Pretoria in this regard.The current grading system incorrectly relies on age as the main determinant in meat grading.
We're motivating to have grass-fed meat recognised and rewarded in the system and for farmers to start getting A-grade prices for A, AB and B-grade grass-fed animals, as well as better prices for all grass-fed animals. For example, young, grass-fed C-grade beef is probably the tastiest beef available, yet farmers get the lowest price for this.
[Asked to comment on this issue, RPO's CEO Gerhard Schutte told Farmer's Weekly: "In principle, we agree there's a problem with the current classification system. We commissioned scientific research projects towards changing it and we'll discuss this at the 7 November workshop."]
How will you regulate the definition of grass-fed meat?
The GFSA cannot regulate the definition for anyone outside of our membership base, but we believe it's critical that legislated definitions are given to these terms. In this regard, Samic [South African Meat Industry Company – ensuring the quality of meat the country) and the ARC are investigating definitions for grass-fed, free-range, veld-raised and country-raised. Farmers will hopefully have legislated definitions in the near future.
How is the GFSA constituted?
We have a board of five members, all of whom are farmers or producers. The board includes Herman Nel and Grant Odgers from the Free State, Keith Harvey from North West and Caroline McCann, who runs livestock in North West and the Free State, and is the owner of Braeside Meat Market in Johannesburg which specialises in grass-fed meat.
We're also partnering with people who can add value to the GFSA. For example, we have Conservation SA on board as well as a number of independent retailers with whom we consult on an ongoing basis.
How can farmers join the GFSA?
Any farmer who is involved in grass-fed meat production can apply. After paying his initial fee of R800, he'll be inspected by Samic to ensure he meets the requirements. Once approved, he becomes a full-time member and pay a membership fee of R1 500 per year. For a grass-fed farmer who's not yet ready, we'll be offering training, advice and support to get him to full member status.
How will the GFSA market grass-fed meat?
We've already started lobbying with special interest groups and independent organisations for funding, which is critical for consumer education and farmer support programmes, as well as for the proper marketing of GFSA and grass-fed meat in South Africa.
Our campaigns will be designed to educate the consumer about grass-fed meat, why it's healthy and where it comes from – not just the area, but also the manner in which it was farmed. We want to develop consumer confidence in the GFSA label, based on the fact that there's full traceability to the farm of origin.
Will your trademark specify that there are no growth hormones and no antibiotics?
Absolutely. To allow growth hormones or promoters and universal use of antibiotics would be defeating our core principles.
How do you fit in with the RPO?
We see ourselves as part of the RPO, which has approved our standard operating procedure. This specifies what grass-fed means. It's a free-ranging system, where animals are fed on grazing pasture, both natural and cultivated, and supplemented with licks where there's a nutrient deficiency in the grass, such as during winter, to ensure optimal growth. The procedure also includes an on-farm health plan for livestock including dips and doses, as well as sustainable management and/or rehabilitation of the environment, based on a good grazing system.
How will your organisation be funded? Will you receive funding from the statutory meat levies?
Statutory levy funding has to be decided at the AGM. Gerhard Schutte from the RPO has given us a lot of support and we hope to be included in the levy budget for consumer education down the line. It's very important, for example, that consumers be educated that grass-fed beef has healthy, creamy fat.
Asked to comment, Schutte said: "As the RPO, we don't support any particular brand or organisation. The funds from the statutory levy are used for generic consumer education. The SA Feedlot Association holds the consumer education contract for SA beef and receives R4,5 million to R5 million per year. Its four-year contract comes up for renewal in November and the Red Meat Industry Forum has approved it. We don't think this is contrary to the development of grass-fed beef."
What is your relationship with the feedlot association?
We do not see the feedlot association as opposition. We believe we can work with it to promote red meat consumption in South Africa by offering consumers alternatives. We've been in discussion with the association and it recognises the movement in the market, but we're still in the early stages of negotiation on how to work together.
Are there examples of organisations like this elsewhere in the world?
There are several, including the American Grass-Fed Association, the Pasture-Fed Livestock Association in Britain, Australian Grass-Fed Beef, Australian Organic Meats Group and Svenskt Sigill in Sweden, to name a few. There are currently around 28 trademarks registered with Samic for grass-fed/free-range/veld-raised meat. Few have made any impact.
How will you make an impact?
There are growing numbers of retailers who've recognised the increase in the number of health-conscious consumers demanding grass-fed meat. If there are as many as 28 trademarks dealing with this issue, it confirms the demand. We're not promoting a particular breed, brand or retailer; we're promoting grass-fed beef across the board. Our impact will depend on the number of farmers who believe in it, joining as members, and the number of consumers who start asking for grass-fed meat and full disclosure labelling on meat. When this happens, grass-fed meat will flourish and we believe we'll be well-placed to lead.

How can the public insist on grass-fed, free-range or veld-raised meat?
We need consumers to realise that they have a choice between grain- and grass-fed. For those who make the choice of grass-fed, it's as simple as asking your butcher where the meat comes from and what the animal was fed.
Phone Adrian Cloete on 082 213 2120 or email [email protected].
This article was originally published in the 29 August 2014 issue of Farmer's Weekly.