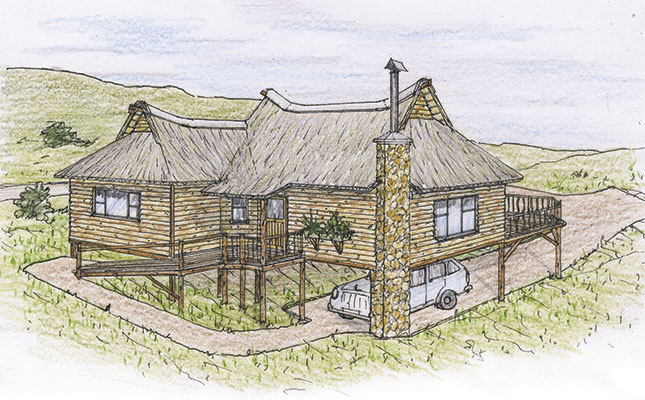 Dear Jonno
We are always intrigued by the variety of homes you feature in Farmer's Weekly. My husband and I have a stock farm near Wepener in the Free State, and we want to build a one-bedroom cottage close to our home for a friend who was recently widowed. She is an avid gardener and has volunteered to start a small nursery on the farm.
The cottage will be situated on a sloping site with views of the Lesotho mountains. We would like it to have a stilted wooden structure, and it must have parking for a vehicle below. The cottage can have a thatched roof or it can be constructed from another material that would blend in with our own home and the environment. We'll leave it up to your expertise to come up with something practical and eco-friendly, and have attached some photographs of the site and the views.
Regards
Annalie
Dear Annalie
The accompanying sketch should comply with most of your requirements. The layout has plenty of space and is very functional for a single person. The ramped walkway to the entrance will also be suitable for the elderly. The cottage is constructed of vertical poles, with external rough-sawn, horizontal, ship-lapped cladding. A variety of cladding can be used for the inner walls to suit the different rooms.
Thatching has been used for the roof and I have added some additional features. Almost any material can be used for the cladding. My preference would be a mock-tile cover with a thatch underlay. There is also some excellent mock-thatch cladding available. The rest of the structure is constructed mostly of eco-friendly materials and should be cost-effective.
Regards
Jonno