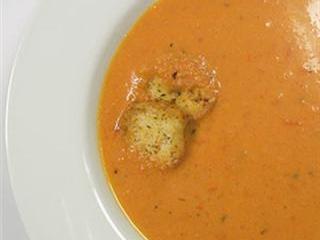 To make cream of tomato soup for four you will need:
400ml chicken stock
1kg large tomatoes
1 generous onion
250ml cream
2 garlic cloves
3 tablespoons tomato concentrate
1 heaped teaspoon brown sugar
Extra virgin olive oil
For the croutons:
Stale white bread
Fresh basil leaves
Extra virgin olive oil
Make the croutons first. Preheat the oven to 180ºC. Cut the stale bread into small squares and arrange on a baking sheet. Finely chop the fresh basil and sprinkle over the bread squares. Pour a little olive oil over each square, salt lightly and bake in the oven until crisp. Remove, place on brown paper or a paper towel and allow to cool under cover.
Next, skin the tomatoes by plunging them into boiling water for 60 to 90 seconds. Slide the skins off with just a little help from a paring knife. Cut the tomatoes in half and lightly squeeze them to get rid of the seeds. Dice and retain the remainder. Crush, peel and finely mince the garlic. Peel and very thinly slice the onion.
Pour just enough extra virgin olive oil to cover a large heavy-base frying pan. Bring this up to medium heat and fry the onion and garlic mixture until the onions are soft and translucent. Add the chopped, deseeded tomatoes to the garlic and onion mixture. Stir well, then simmer until the tomatoes are soft. Pour in the chicken stock. You can mix up some prefabricated industrial-strength freeze-dried chicken powder or you can make your own fresh stock.
Your own Chicken stock
Making the stock takes 35 minutes, including preparation. With a cleaver, radically assault two chicken backs, chopping them into 30mm sections. Bring this to the boil in 1,2l water with a stick of celery, a carrot and an onion, all coarsely chopped to speed up production. A bay leaf and five or ten black peppercorns add their own special magic. Skim off the scum as it comes to the boil, then let it simmer for about 30 minutes. Pour through a sieve, reject the solids and retain the liquid.
Decant 400ml stock into the frying pan with the cooked garlic, onion and tomato. Stir, then let it simmer gently for 10 minutes. Freeze the rest of the stock. Pour the soup into a food processor and rev it to the red line. Return it to the original pan, mix in the tomato concentrate and sugar. Bring this to the boil, lower to a simmer and slowly add the cream, stirring all the time.
Now's a good time to taste. Maybe you need to add salt or freshly ground black pepper? Perhaps a dash of Habanero Tabasco Sauce? A tablespoon or two of Old Brown Sherry? Serve the croutons separately, allowing your guests to decide on the relative intensity of crunch.
Enjoy.